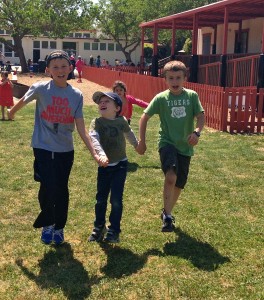 During Earth Week on Cowper Campus, our students discovered the world around them and created wonderful memories. Our Earth Day - related activities included earth science adventures during Mini-Camp, a new natural obstacle course, and our Earth Day extravaganza featuring an exciting visit from the INTL* 5th graders.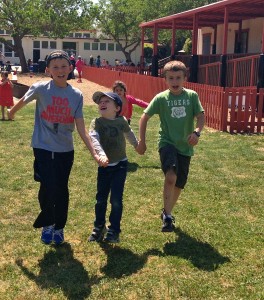 Our activities began in the classroom with a unit on bugs and plants. Students were put in charge of taking care of their new bug friends, and they eagerly watched them grow and change. Some classes received caterpillars that eventually metamorphosizeded into beautiful butterflies. Others cared for lady bugs and ant farms. Each insect and plant brought into the classroom was treated with respect and care. Students learned how to take care of other living things, and were introduced to the process of making scientific observations. Students either drew or wrote their observations in special scientific notebooks.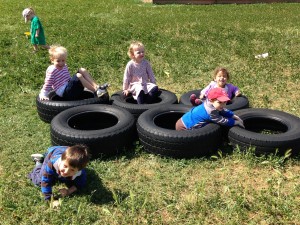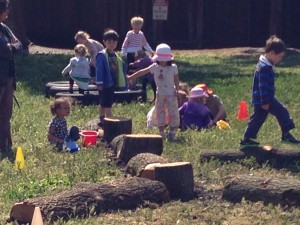 Students that attended our Spring Break Mini-Camp continued the earth science theme. Campers learned all about the layers of earth and sediment. They also constructed their very own volcano! Each recess the mini-campers made new discoveries, gathering new plants and insects to identify. Mini-campers also excitedly watched the construction of Cowper's new obstacle course made of logs and tires. But it wasn't until our special Earth Day gathering that we were able to put the new obstacle course to use.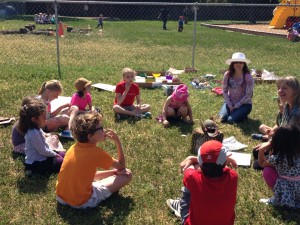 The special gathering took place on Wednesday of Earth Week. In the morning, the Kindergarten classes prepared to receive the 5th graders. A bus pulled up to Cowper Campus around 10:30 a.m., filled with students, teachers and lots of flowers for planting. The excitement was tangible. Activities were separated into six different stations manned by parents and faculty alike. All of the activities reflected Earth Day themes, and included team building, discovery, and games.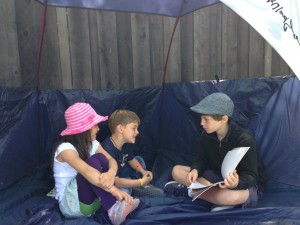 The 5th graders bonded with the younger students by reading Earth-themed stories. After the stories, students visited the sack races and cheered their team members on to the finish line.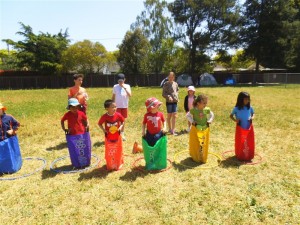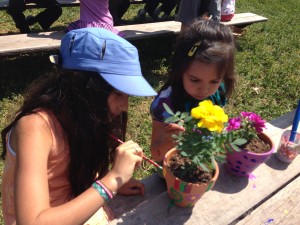 Meanwhile, in the garden the students planted flowers in hand-painted pots. Elsewhere, students created quilting squares with multi-colored beans and painted beautiful water colors with vegetable juice paint.
The most impressive project was stationed in the sand box, where students were introduced to Land Art, creating colorful art sculptures with natural objects.
Students of all ages shared smiles, love and laughter as they gathered around the painted murals that the 5th graders had created for the Cowper garden.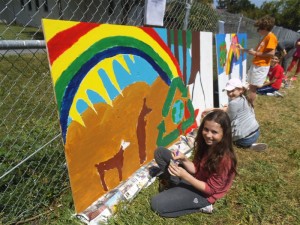 Each group sat in a circle to admire the mural and give thanks to the earth. Within the circles the students discussed the discoveries they had made, and how to use these discoveries to help the earth.
It was truly a wonderful week that would not have been possible with out the help of faculty, staff and parent volunteers from both Cowper and Cohn Campuses. Our community has truly been enriched by this experience. The Early Years students solidified bonds that will continue to grow as they make their journey from Cowper to Cohn.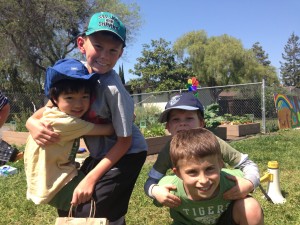 *In 2020, the International School of the Peninsula (ISTP) formally changed its name to Silicon Valley International School (INTL) to better reflect its bilingual programs, location, and international values.