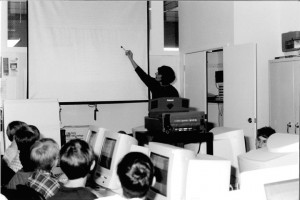 Although Thanksgiving has passed, I can't help but continue to reflect on the things I am grateful for. INTL* is such a huge part of my life, and I am sure, your family's life, that it's not difficult to take a few moments and share collective gratitude for all the things that make our school so extraordinary.
What has been on my mind lately is our community. I have been at the school for 21 years, and one constant has remained - the idea of our community as the "INTL family."
As a former parent, an educator, and now an administrator, I have the fortunate experience and opportunity to be able to witness the daily workings of our school and the people who make up our special community.
I think we can all agree that we have the most hardworking, adaptable, unique, and passionate teachers. They make up a large part of our family. I can tell you from experience that teaching is incredibly rewarding, but it is also very demanding. Your child's teachers put in extra hours to make sure students have meaningful learning experiences. They care about your children and about imparting the beauty and rigor of their languages and cultures. This is a gift that your children will be grateful for as they grow older, face new challenges, and make their way in our ever-changing world.
In all families, it is important to acknowledge our gratitude by remembering and honoring those who came before us and laid the foundations for the good things in our lives.
The current generations of our INTL family may not have heard the name Madeleine DeCorwin, but I can tell you that along with many other strong, dedicated individuals from our past, we have her to thank for the INTL we know today. She is a former INTL parent who, for many years, went above and beyond what was expected of her. During her time at INTL, you would see her wearing many different hats - PTA president, room parent, hot lunch coordinator, and anything else the school needed. Whatever the job, she took on the mantle gladly and with pride. She was even the first PTA President to write individualized solicitation letters to parents! To this day, Madeleine still attends our Gala, contributes to the Annual Fund, and champions for our school. It has been many years since her children graduated and left our colorful hallways! Why does she care about the current generation of INTL students just as much as when she was at school? Because INTL is family.
Family, I think, is a telling symbol here. With all the students and parents that have come and gone over the years, one sentiment that has remained constant has been the sense of belonging. It has been that feeling of belonging and family that has always inspired the generosity of our supporters and friends. I know when I first moved here from a French-American School in Boston, I knew exactly three people: my two daughters (both INTL alumnae) and my husband. The school, and all the wonderful people in it, became my family - my touchstone. When I needed help babysitting my girls so I could work late, or if another family needed help with something - we were there for each other. You can still see these threads of connection today, when INTL families go on vacation together and their children, our students and classmates, become inseparable. When, during 8th grade graduation, you see streams of tears on the faces of students who spent 10 years together, growing, learning, and becoming incredible and capable young adults, you know just how enduring those connections are.
Family is always there for each other. In 1999, when it looked like we wouldn't have a site for our second campus, Tate and Bob Cohn stepped in and gave the school what it needed to build the home we have today at Cohn Campus. The 57 families who came together to renovate the school this past year show that love and passion for INTL remain strong. We are able to walk these hallways, to impart an exemplary bilingual immersion education to our current students thanks to the people who came before us and to those who believe so deeply in our mission. Without this unique family we have built and the generosity of those who truly care about our success, we would not have this wonderful school - a school we call home.
During this time of year, I am reminded of how lucky we are to have such devoted supporters who constantly inspire their fellow community members to do the most they can. Our school rests on the foundation of giving, cooperation, and care laid down years ago by our fellow community members, and remains strong with the dedication we all contribute every day. INTL's sense of family is more thriving than ever, and that is something we can all be grateful for.
*In 2020, the International School of the Peninsula (ISTP) formally changed its name to Silicon Valley International School (INTL) to better reflect its bilingual programs, location, and international values.