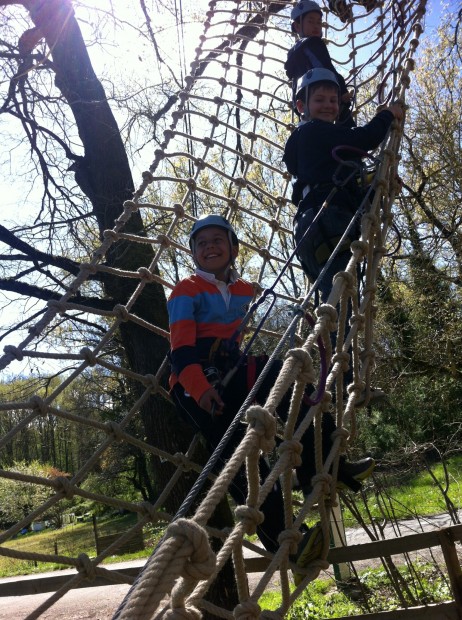 The French Program 4th Graders are in Fumel, France, for a 10-day cultural exchange trip. Here is another update on their adventures!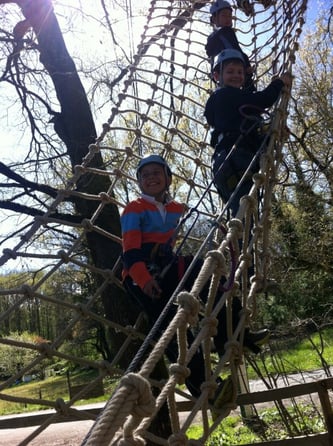 Days 4-5: Saturday was an adventurous day all about pushing our boundaries. In the morning, we learned how to do a ropes course – clipping on and off the ropes and using pulleys. The rest of the day was spent with our host families, trying each of the different level ropes courses and working together. We ate a picnic lunch, and then ended the day with a final giant climb and long zip line. By the end of the day, we had some very happily exhausted students! Today (Sunday) has been a day for students to spend time with their host families, so there are no group activities planned.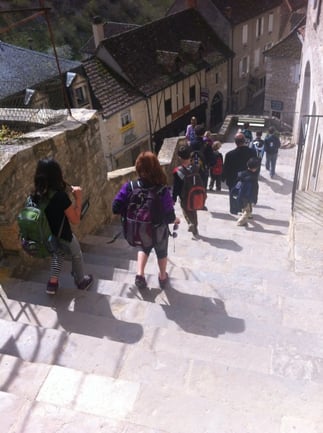 Day 6: Today began early with a bus ride to Rocamadour, the famous destination for Catholic pilgrimages, and also the location of a beautiful castle, church, and village. Once we arrived, we began with a tour of the castle and church, which overlooks the village below. In the church, we looked at stained glass windows, beautiful architecture, statues, art, and heard an organ playing. Outside of the church, we discussed the importance of Rocamadour and the pilgrimage to this beautiful location.
Next, we traveled on the historic 200 steps down to the village of Rocamadour, where we went shopping and ate duck, fries, and gelato. Afterwards, we visited a birds of prey sanctuary and watched a wonderful demonstration of these beautiful animals: vultures, hawks, parrots, owls, eagles, and many more!
After this adventure, we returned back to the school by bus, and we got ready for this evening's going away dinner. At the dinner, there were amazing French treats, lots of laughs, and the children had their last chance to play with their French friends. Tomorrow, we will be heading to Cahors for the day.
Day 7: Today was our last day spent in Fumel. In the morning we returned to our host school for our last morning with our friends and correspondents.
Then, we took the bus to Cahors, where we took a tour of the beautiful city, learning about the medieval history of the town and walking through the streets. As we walked, we saw churches, bridges, historical monuments, carvings, and very old architecture.
At the conclusion of the tour, we sat down for a lunch looking out at the city, in which the children enjoyed duck and fries cooked in the Cahors local style, and a dessert buffet. After lunch, we took a walk on our own through Cahors, viewing the bridge and making our way through town. As we walked through town, we went to a local toy store and enjoyed picking out a few fun items to take home as souvenirs from our trip.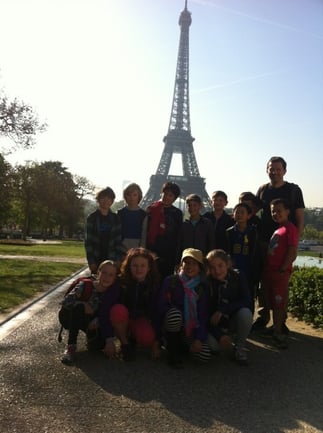 Tomorrow we head to Toulouse and then to Paris.
Day 8: We woke early this morning to travel to Toulouse airport, where we boarded our flight to Paris. When we arrived in Paris, we checked into our hotel and went directly to get ice cream, which was greatly appreciated after our time in the plane. After getting ice cream, the children visited a fun bookstore where they purchased many French books to take home with them. After they picked out some great books, the children returned to the hotel and got ready for tonight's dinner. All dressed up, we met up with family and friends at a nearby restaurant where we all enjoyed wonderful food and conversation.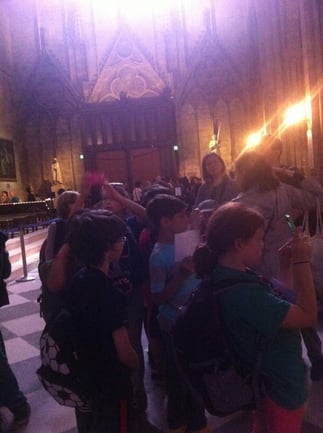 Day 9: It has been another beautiful day in Paris. We began the day by taking the metro to the Eiffel Tower. We spent some time looking at the amazing tower, took pictures, and then boarded a boat tour of Paris. We were able to see all of the major French monuments while cruising on the Seine River.
Back on land, we took a bus to get sandwich lunches, and ate them in a floral garden. After lunch, we went to the Hotel de Ville, where we had a walking tour of the Hotel de Ville and Notre Dame. At Notre Dame, we visited the beautiful church, took many pictures, and went shopping.
Upon return to the hotel, we had a few minutes to pack and then went to a Crêperie for our final dinner in Paris!
*In 2020, the International School of the Peninsula (ISTP) formally changed its name to Silicon Valley International School (INTL) to better reflect its bilingual programs, location, and international values.