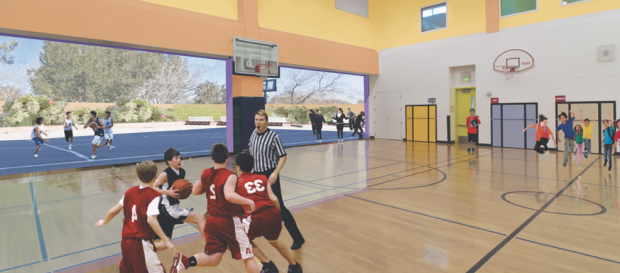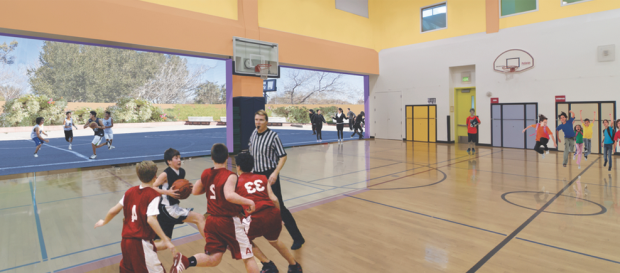 The renovation of the Rothschild Multipurpose Room (MPR), part of Phase One of INTL*s Expansion for Innovation, will vastly increase the room's versatility and flexibility.
Whereas now only one PE class can utilize the space for a single activity, with the renovations, multiple activities will be able to take place simultaneously. A new movable room divider will be installed, allowing teachers to split the room in half. Students will be able to practice yoga in one area, while a dance class takes place in another. Lower Elementary School Principal Donna Wood shared that she is "very excited to be able to have two PE classes happening at one time. Now students will be able to have more PE classes each week."
In addition to the movable room divider, two nano doors will be installed at the back of the MPR. The two large glass, accordion-fold doors will stretch the length of the back wall, offering views to the outside and visually enlarging the space even when closed. The nano doors can fold entirely out of the way, allowing the paved basketball court area outside to be an extension of the MPR. This change will give PE classes a lot more useable space, opening up a world of exciting possibilities. For example, an entire grade could participate in a PE obstacle-course without feeling cramped.
The nano doors will make the MPR a more attractive space for hosting all-school assemblies and special events, such as Arts Night. In addition to adding access to outdoor space, Assistant Head of School Kate Lussen says that with the nano doors "the space will look much nicer and no longer feel like a gym. The doors will give the MPR a sense of spacious indoor-outdoor flow."
The renovations to the Rothschild Multi-Purpose Room are only possible with generous gifts from parents. Please consider making a gift to the Expansion for Innovation Capital Campaign. Contact Patricia Colin if you would like to give a gift or make a pledge, and visit www.INTL.org/capitalcampaign to learn more about the campaign.
*In 2020, the International School of the Peninsula (ISTP) formally changed its name to Silicon Valley International School (INTL) to better reflect its bilingual programs, location, and international values.