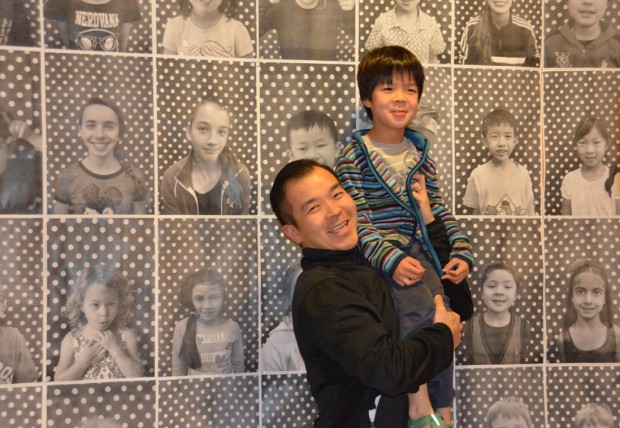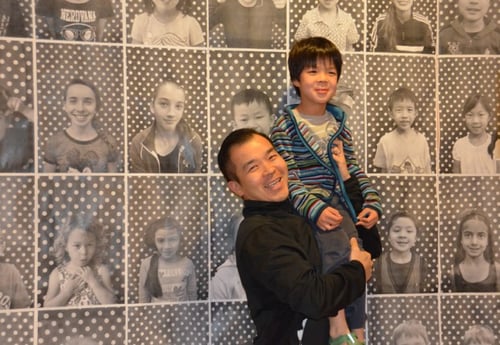 As guests approached Cohn Campus on Saturday Night, they were greeted by a larger than life representation of this year's "Many Cultures, One World" theme – a giant globe surrounded by world flags and twinkling lights.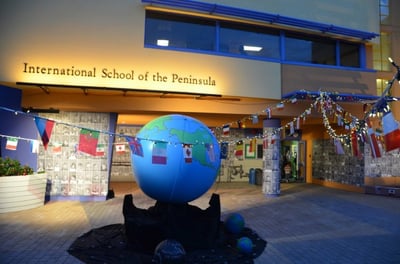 They were further drawn in by the impressive display of student portraits that lined the entire front façade. Inspired by French photographer and 2011 TED prize winner, "JR", INTL* Art Teacher, Aïcha Idelcadi took photos of INTL students, which were included in the installation. Students and parents excitedly searched for their or their child's photo. Children beamed with pride as they found their own picture among the nearly 600 individual images.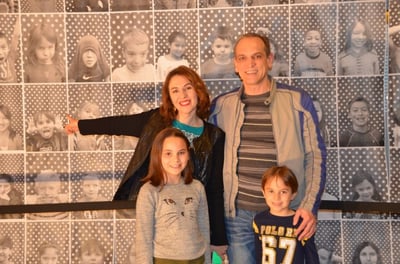 The portrait gallery out front was a perfect reflection of the night as a whole. The "Inside Out" art project came from artist JR's idea about placing an emphasis on people and their stories - sharing individual messages.
Similar to the over 200,000 individual posters on the online version of "Inside Out", each INTL student was given a special chance to shine, and each made his or her own unique contribution to Arts Night. All of these individual contributions, when added together, showcased the vibrancy and creativity of the entire INTL community.
Parents, students, and teachers all agreed that the portraits on the Cohn Campus façade were a highlight of the evening.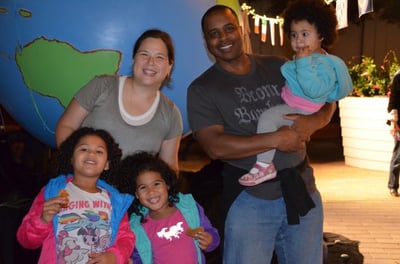 6th grader Leila E. explains, "One of my favorite things was how everyone's picture was hanging at the front, because sometimes people put up pictures, but most of the time you are never in it, so I think it is nice to see that everyone was there."
2nd grader Isabella M. added, "My favorite thing about arts night tonight was seeing my picture on the school!"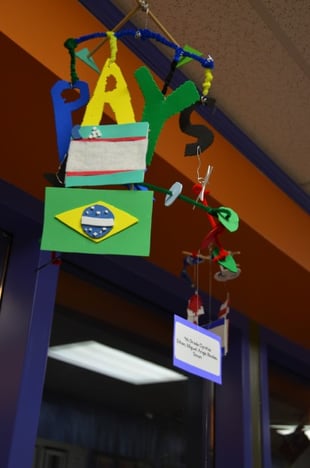 For Director of Advancement Patricia Colin, "The most beautiful moment was when the kids were looking for their faces, and then they would find them, and get so excited, and then the parents would see them and they would be so proud."
Each project had its own special take on the "Many Cultures, One World" theme, and it was a joy to see students proudly showing off their projects to their equally proud parents.
4th grader Maya Q. explained that for her class' project, students created hanging mobiles with flags from different countries. "I loved putting it together. Our art teacher Aïcha gave us really cool materials to build it with, like wires and special scissors to cut it with."
3rd grader Alexandra D. was equally proud of her batik print project, and was excited to show it to her mom and dad. She added, "My favorite thing is to walk around and see all the art and all my friends."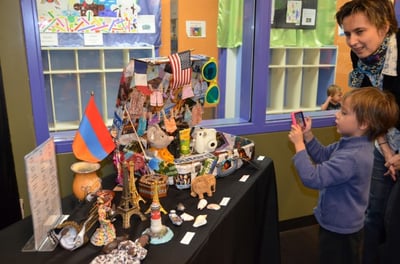 Parents were all impressed by the thoughtfulness that went into each Arts Night project.
Maile Uohara, Director of Admissions and also an INTL parent, said, "I think it's amazing the thought the teachers put into the projects the kids do, especially for the early years program. In Kindergarten, it was a month-long project that they have worked on, with multiple steps in creating the project, really engaging the students on multiple levels, from brainstorming, to reading and learning about airplanes, to designing and building their own airplane."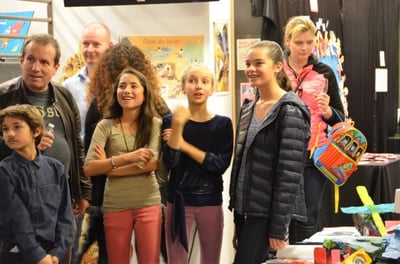 Nicole Serra agreed. "I really enjoyed the variety of art projects that I saw, especially my daughter's, and especially the thoughtfulness behind each project. I know how many hours the teachers and children put into their projects, so getting to see the finished product was a really awesome thing to share with my family."
Patricia Colin summed up the incredibly successful night, "For the kids, it's such a wonderful event – it's their school, it's their work, and they are so proud. They know it's thanks to their work that their parents are here, and they know that their parents are so proud."
*In 2020, the International School of the Peninsula (ISTP) formally changed its name to Silicon Valley International School (INTL) to better reflect its bilingual programs, location, and international values.