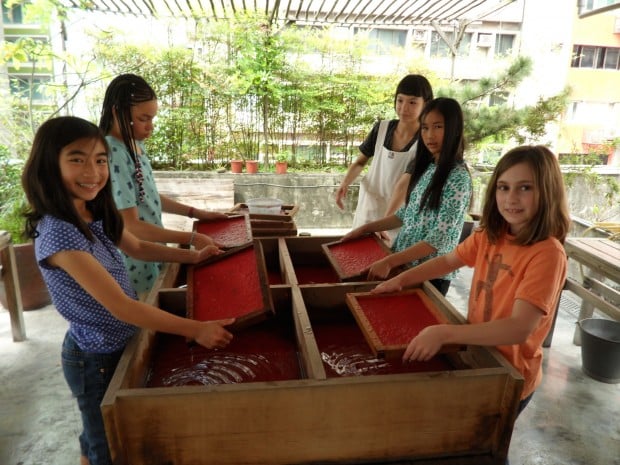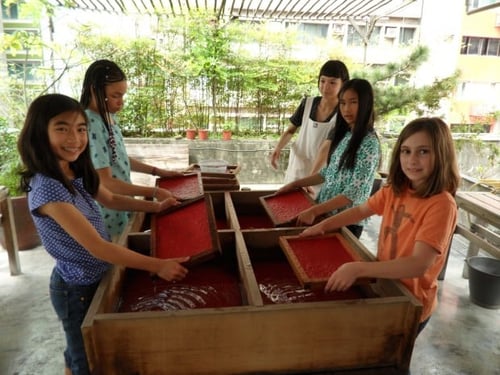 The Chinese Program 5th Graders are in Taiwan for an 11-day cultural exchange trip. Students will take in the sights and sounds of the capital city of Taipei, live with Chinese host families, and attend GaoYuan Elementary School with their Chinese peers. In this blog, Chinese Program Teacher Cindy Chiang chronicles this exciting exchange opportunity.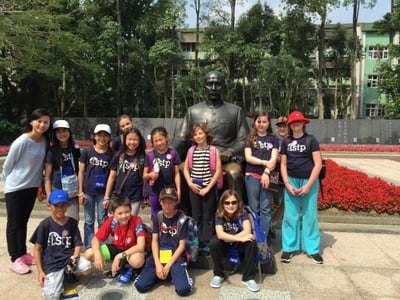 Day 1: Our first day in Taiwan was full of excitement and activities! We arrived this morning at Taoyuan International Airport at 5:15 am after a good night's sleep and two Taiwanese style meals on the plane. The students exchanged money and went through customs on their own. After completing these tasks with a long wait, we were officially admitted to Taiwan! Once we stepped outside of the airport, we felt Taiwan's typical humid weather right away.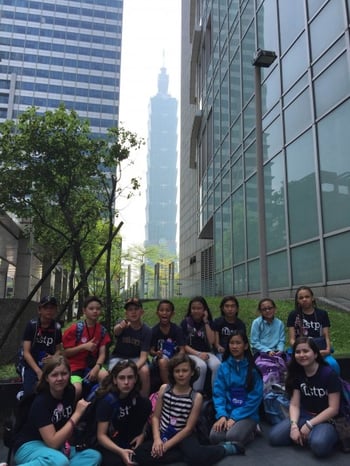 We then stopped by the hotel before we started today's sightseeing. For our first stop we went to Sun Yat Sen's Memorial. We saw a huge statue of Dr. Sun Yat Sen in the main hall, and took some great pictures with him. We also joined a docent tour to learn more about Sun Yat Sen's early life and how he built the Republic of China. Next, students had time to complete some work in their workbooks. At lunch, we ate at a buffet restaurant in the building. The students enjoyed this lunch very much, especially the well-known Taiwanese watermelons and ice cream!
After lunch, we went to Eslite bookstore. Everyone bought at least one book for his/her twenty minute reading assignment and some also bought souvenirs. Our next stop was Taipei's landmark building, Taipei 101. Given the fact that we were jet lagged and exhausted, we just walked around the neighborhood and took a great picture outside. We then checked in at the hotel and asked all the students to rest for some time. Tonight's dinner was typical family style cuisine. Some of students even fell asleep during dinner!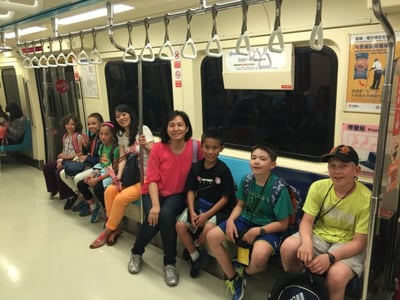 Now we are back to the hotel, and I am sure we will all have a really good night sleep tonight!
Today's transportation, except from the airport to the hotel, was all by MRT (Taipei Rapid Transit). The students were so great at looking at directions and the MRT map, and we also walked quite a lot. It was a true local Taipei experience for them! Tomorrow is another exciting day full of activities.
Day 2: After a good night's sleep on Saturday, everyone was recharged with a nice buffet breakfast at the hotel and ready for the adventures of day two. We first went to I-Lan Cultural Center. On the way there, we learned about the tunnel from Taipei to I-Lan, I-Lan's agriculture, and Taiwan's geography from our tour guide. Fortunately, the traffic to I-Lan was surprising light and smooth, given the fact that this is a 4 day long weekend for the tomb sweeping festival.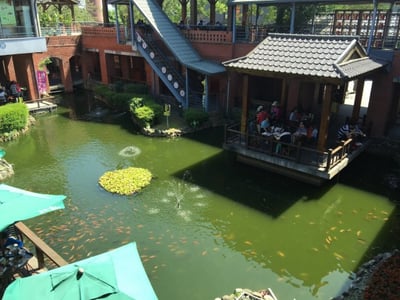 We spent quite a long time at the Cultural Center where we watched two typical Taiwanese shows, Taiwanese opera and a musical play. Although sometimes the plays were in Taiwanese, our students could follow the story from actors' movement, facial expressions, or even just reading the captions on the side. Another highlight was the hands-on art and craft activities, such as designing a spinning top and making an oil paper umbrella. We even went to a tea museum to learn a little bit about Taiwan's tea culture and tea making, which gave the students some prior knowledge for our tea-picking activity with our partner school.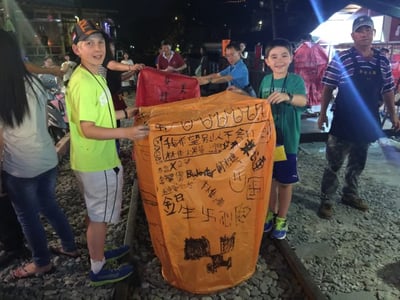 After our visit to the Cultural Center, we headed to Ping Xi, a scenic site for releasing hot air lanterns into the sky. This activity is a traditional Taiwanese custom for sending good wishes. In pairs, the students wrote wishes on their lanterns, and every group succeeded in launching them into the sky!
After our lantern activity, which took us quite a long time, we headed to Shi Lin night market in Taipei for a street food style dinner. We had bubble pearl tea, stinky tofu, shaved ice, green onion pancakes, and, of course, watermelon juice–all Taiwanese style! Instead of the bus, we took MRT back to the hotel. The only difference was that each student bought his/her own ticket this time! On MRT, although we were tired, we still all had our sense of humor. It was a very long but very exciting day for all of us!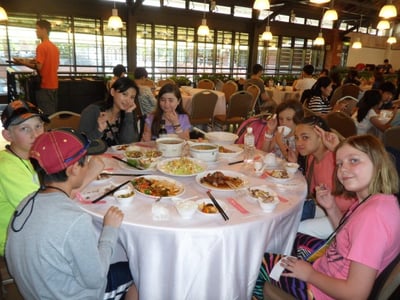 Day 3: After a better night's sleep on Sunday and adjusting to jet lag, the students looked great and felt excited about our last day touring Taipei.
We started our day by visiting the Palace Museum. At the Palace Museum, the students had a scavenger hunt in which they had to look for four famous historical relics: the Jadeite Cabbage with Insects, the Meat-Shaped Stone, Mao-Kung Ting, and the painting titled Along the River During the Ching-Ming Festival. We had audio devices to help us understand the history and the origin of these relics.
When the students' personalized tours ended, we had a great discussion with each group. They were all very engaged in learning the history. Some students even visited the children's learning center where they played interactive games and watched the Taiwanese version of the Night at the Museum. Before we left for our next stop, due to a high demand, we checked in at the gift shop! Some students bought the movie they had watched, and others bought souvenirs of the four famous relics.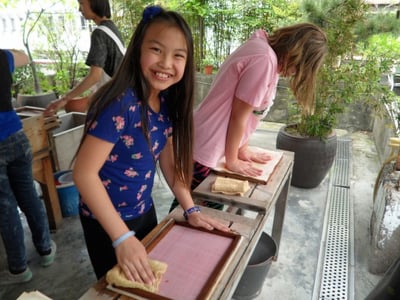 Lunch was at a Korean BBQ restaurant. The owner prepared non-spicy meat and dishes for us. Several students enjoyed the shrimp cake the most. After lunch, we visited the Paper-making Museum. We learned the history of paper-making and made our own paper by using their traditional techniques, instead of a blender that we used in class several months ago. We are very proud of how engaged our students were and how interactive they were with the instructor, sister Kang Kang.
Sooner than expected, it was time for us to say goodbye to Taipei and head to Taoyuan! The traffic was, again, very light and smooth. The students had a nap on the bus. We soon arrived at GaoYuan Elementary School, where Principal Luo and Director Lu were waiting for us. On a campus tour, we learned that the school has a zoo, a big olive tree, and a huge sports field, and that the school just celebrated its 100th birthday. At 5 o'clock, we met the host families. As they introduced themselves, our students impressed their host families with their fluent Chinese.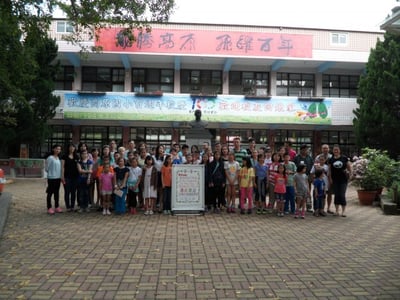 The families were friendly to our students and they were all very excited about this cultural experience. We knew at first sight that our students were going to have a fantastic time with each of them.
Day 4: Today was the first day at school. We participated the school's morning assembly–a common ceremony in every school in Taiwan. Listening to GaoYuan students singing the national anthem while watching the flag go up, I was moved and honored that my students could experience a part of my elementary school life in Taiwan. Because GaoYuan just celebrated their 100th birthday, they had made their mascot costumes of bamboo. The highlight of the day was when our students were allowed to try on these costumes! It was a great ice breaker activity to start their first day at school!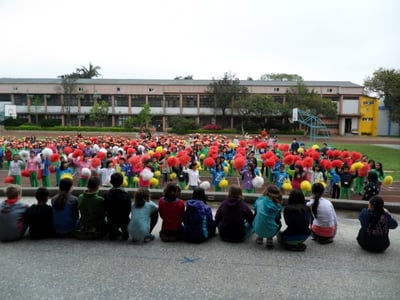 After a short welcoming ceremony and some activities in each of the four classes, our students quickly felt welcome and built connections with the class. After the morning classes, they had already developed some good friendship with their classmates. They played basketball, red light, green light and even fed the rabbits in the school zoo!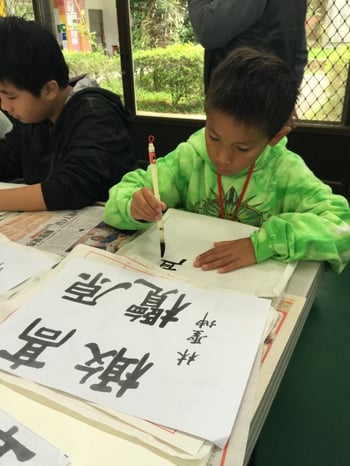 Day 5: Yesterday morning one of the teachers at Gaoyuan taught the entire 6th grade and our students how to write calligraphy. The teacher is a calligraphy expert who tailored the lesson just for us. In order not to repeat the lesson from last year, he focused on a different font–Li Shu instead of Kai Shu. We learned how to hold the brush, the proper posture when writing, and about the beauty of calligraphy. We practiced every stroke of Li Shu before we started our final project–a four character style piece. The four characters were Gao Yuan Gan Lan. Gan Lan means Olive. The phrase denotes the core of Gaoyuan, which is an old olive tree on campus.
The lesson was informative and demonstrative. The teacher showed us many videos that he recorded to teach the students what to expect when writing every stroke of each character. After a good amount of time prepping the students, we finally could work on our masterpiece. Our students all did a fantastic job! Surprisingly, some of them even did a better job than the Gaoyuan students! I used to write calligraphy when I was a kid. Seeing our students' concentrating on their work and engaging in the process, I was very motivated to try it on my own!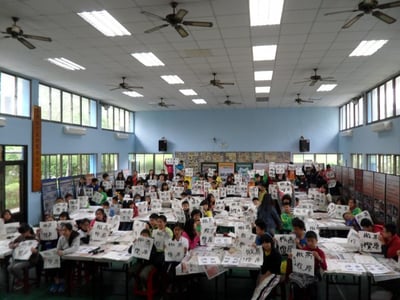 After lunch, a traditional Taiwanese sticky rice dish, we were getting ready for a series of tea-related activities in the afternoon. In the back of the school, there is a small tea plantation. Another director from the school gave our students an introduction to the tea culture in Taiwan and explained the rule of thumb of how to pick tea leaves–one bud, two leaves. Gaoyuan prepared a hat and a basket for every student. Even if our students did not have good tea picking skills, their appearance made them look very professional! Then, we brought these baskets filled with leaves to a tea factory where we learned the process of tea making. The highlight of the day was when we experienced the Hakka tea culture–Lei Cha. We ground the tea with sesame, rice, peanuts, etc and added water to drink. Along with the tea, the owner of the factory also treated us a Hakka style snack, glutinous rice balls with brown sugar. That was a great treat for us! Our students enjoyed this field trip a lot!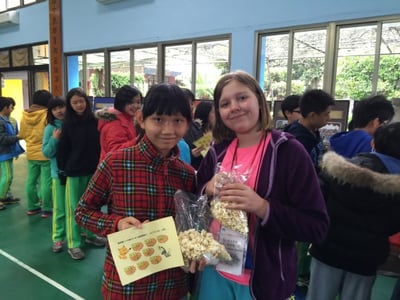 This morning we had a cultural fair with four 6th grade classes. Each class prepared two activities, such as tossing an object, playing with a spinning top, a pictionary game for guessing Chines idioms, and more. I enjoyed myself the most with those folklore activities, not to mention our students! One of the activities was to win kettle corn!
It was raining this morning. After some workers helped mop the wet ground and with some sun in the afternoon, we were lucky to still be able to do the running relay and tug of war game. It was so rewarding to see our students full of energy today, fully engaged in both events. Tomorrow is our last day at school.
We are preparing a talent show consisting of the two Taiwanese songs that our students have learned in class and the skits that they did at the holiday performance party. I am looking forward to this opportunity for our students to showcase their performing skills to Gaoyuan's teachers and students!
*In 2020, the International School of the Peninsula (ISTP) formally changed its name to Silicon Valley International School (INTL) to better reflect its bilingual programs, location, and international values.