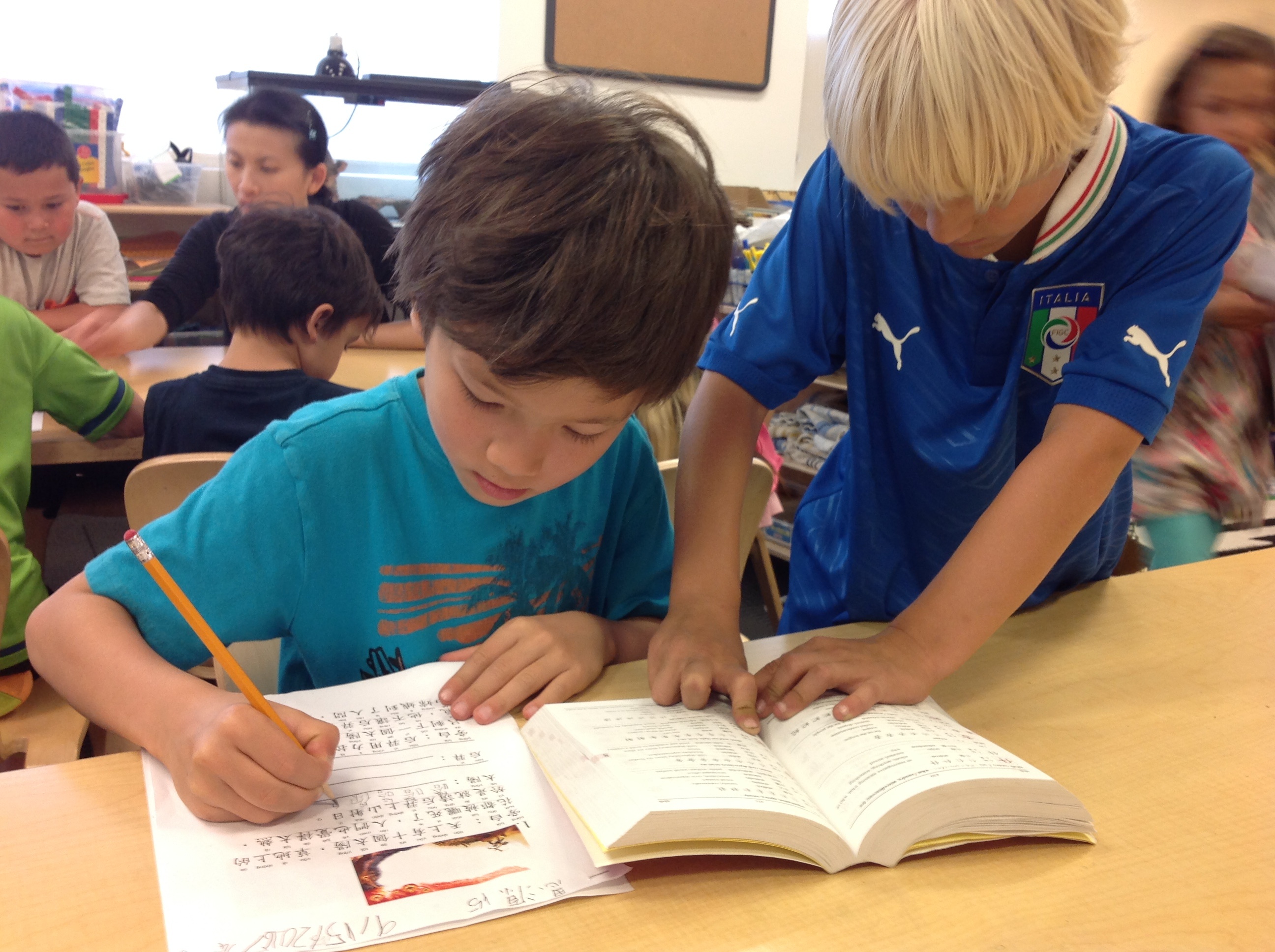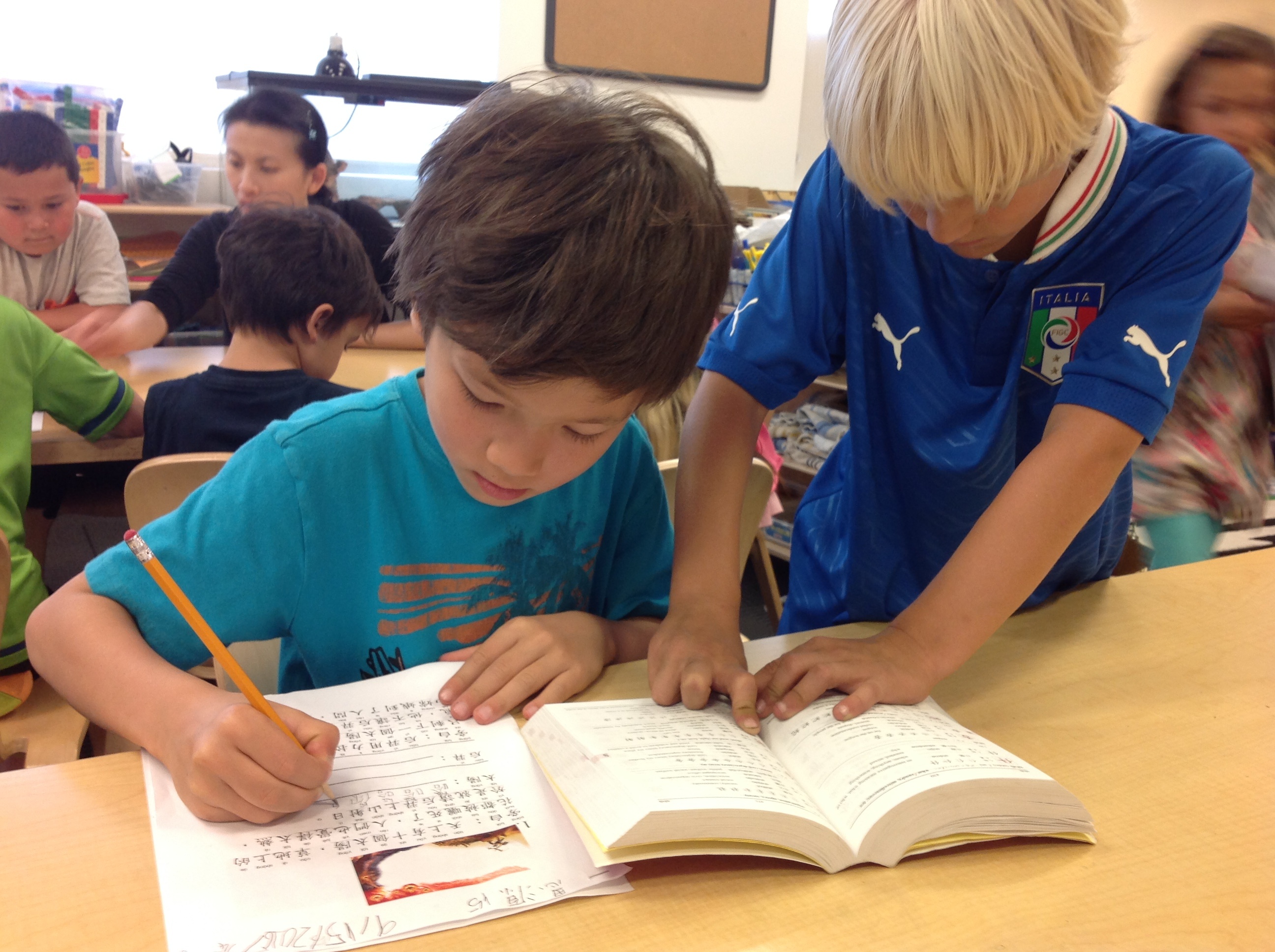 As we have incorporated more and more inquiry-based learning into our 2nd grade classrooms, we have focused on harnessing our students' natural curiosity to build up and reinforce their Chinese language and literacy skills. We want our students to develop creativity, confidence, communication skills and high-order thinking skills while also creating a strong foundation of language and literacy. Some of the best ways we have found to scaffold literacy within an inquiry approach include Writing Workshops and the "Daily Five," a classroom management system that encourages independent reading and writing skills.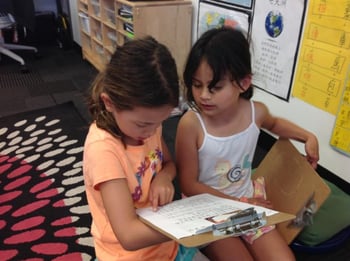 We began the school year with a unit on the elements of literature. The students read the story of the Moon Lady, and we encouraged them to ask questions about the characters, setting, events and plot (problem & solution). In our Writing Workshop, students worked on the concept of dialogue, and they invented their own dialogue for the story of the Moon Lady. In computer science class, they worked in groups to create an animation of the dialogue they had written.
To further apply their knowledge of literature elements, the students worked in groups to write their own original stories. They started by first discussing all the elements of their story, and then each student wrote one part independently. Finally, each group transformed its story into a puppet show to share with the class. They made puppets, drew background posters, and rehearsed their script. This process allowed students to use their own initiative and creativity, and build communication, social, and problem-solving skills, while also strengthening their foundation of Chinese language and literacy.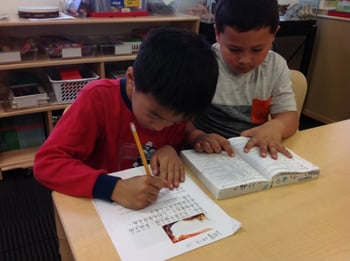 In addition to Writing Workshops, we also use the "Daily Five" and Chinese Reading Level Assessments to support students' language and literacy. During the Daily Five, students can choose from five Chinese literacy tasks: reading independently, reading to someone else, working on a writing assignment, listening to a book on tape, or studying vocabulary.
While the rest of the class is engaged in the Daily Five, we are able to work uninterrupted with small groups and individual students. We check in with students individually and give them feedback on their writing, story telling, sentence structure, and grammar. We also work with groups of students based on their literacy levels, as determined by the Chinese Reading Level Assessment. During group time, we read books together, following a guided structure where students take on different roles in the group (word finder, summarizer, and questioner). While working with students individually and in small groups, each student is able to develop his/her comprehension, accuracy, fluency and vocabulary at his/her own pace.
Students really enjoy taking charge of their own learning in student-led, collaborative activities such as our writing workshops. They have also shown increased motivation to work on their reading and writing when they get to choose their own activities during the Daily Five. Overall, we have had great success incorporating inquiry-based approaches to Chinese language and literacy in the classroom, and we look forward to doing even more in the future!
*In 2020, the International School of the Peninsula (ISTP) formally changed its name to Silicon Valley International School (INTL) to better reflect its bilingual programs, location, and international values.