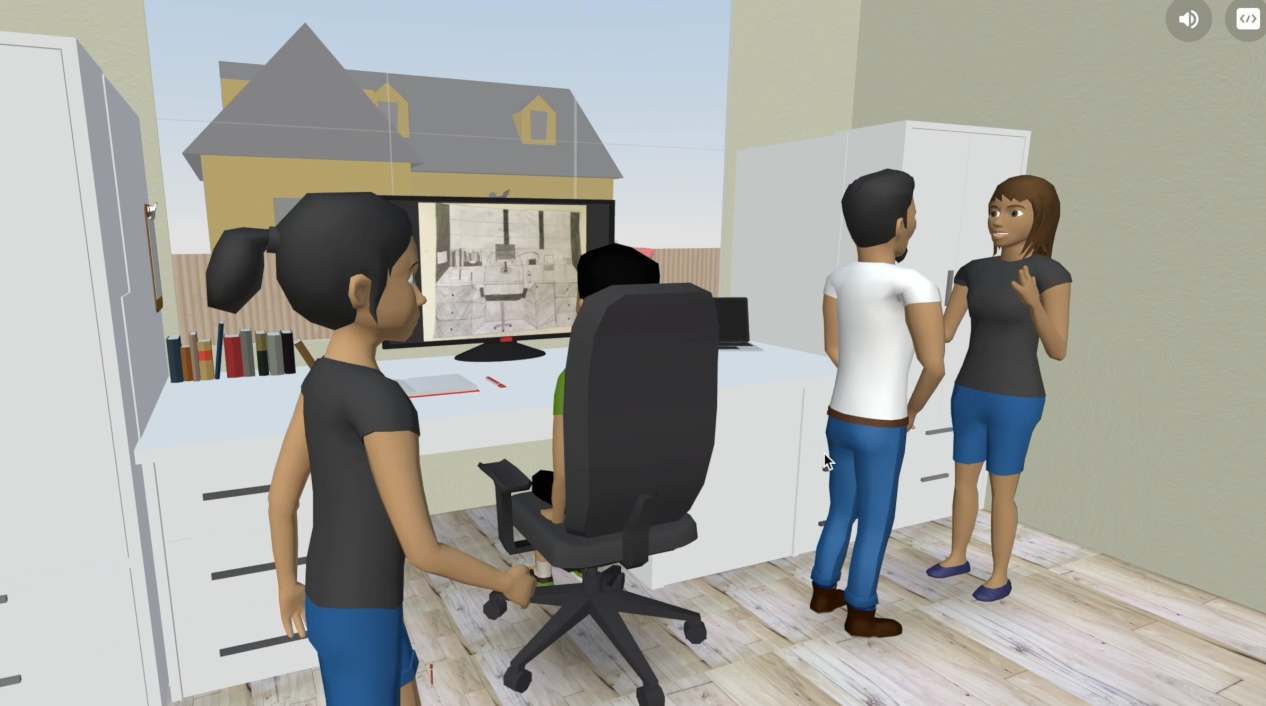 This year, so many of us have foregone the parties, dinners, and playdates we once took for granted. Still, we are very fortunate to be able to "visit" our friends virtually, and to weather the challenges of 2020 together as a school community, although we may be physically separate.
We used this sentiment – "Alone Together" – as our theme for our 2020 Arts Night, INTL's beloved and much-anticipated community event which this year is going virtual.
Our Middle School design teacher Elisabeth Lepert and Chinese and French program art teachers Anne-Sophie Gaudet and Haiying Yang used "Alone Together" as a jumping-off point to collaborate on an innovative multimedia project. Using both computer science and art side by side, the 8th graders created a space where they could be "together" in virtual reality.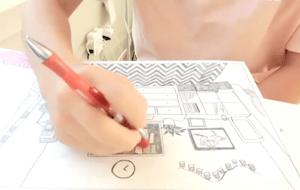 First, students had to find a place in their home where they felt calm, comfortable, and serene when alone during Distance Learning. They sketched three different views of the space using only pencil and white paper. They were challenged to create a realistic composition using perspective, texture, and shading.
Art teacher Anne-Sophie Gaudet says,"Students were able to draw awesome, realistic drawings, some of which are truly beautiful. Students then took inspiration from their drawing to build their 3D space and imagine this space in the future when they can be together with their friends."
Students used the 3D creation platform CoSpaces to transform their drawing into a kinetic 3D scene in virtual reality (VR), populated by the friends they miss so much.
Design teacher Elisabeth Lepert explains, "this project was a perfect example of a STEAM (science, technology, engineering, arts, and math) project, combining art, computational thinking, coding and virtual reality. Students used CoSpaces, a 3D creation platform, to animate a drawing done in art class with code, and then explored it through virtual reality."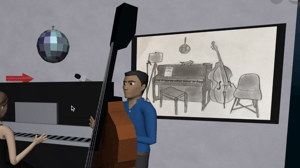 As one example, 8th grader Talinn H. brought his empty music room to life with a virtual orchestra, with figures moving in augmented reality as they play the cello, harp, piano, violin, and more! Get a glimpse of Talinn's work and other student projects in the video above – you can see his original 2D sketch featured as art on the wall of the 3D room!
Mme. Gaudet adds, "Because students incorporated their 2D drawings into their 3D CoSpaces world, the end result is a combination of calm, alone, and serene with movement and togetherness. The contrast between the 2D and 3D elements in the same work makes each piece unique and interesting, and it reflects human nature – sometimes we like to be alone, sometimes we like to be social."
We can't wait for you to see all the 8th graders' work in VR at their Arts Night 2020: "Alone Together" premiere on Saturday, December 5, 2020! A Zoom link to attend will be sent via email.
Middle School Design teacher Elisabeth Lepert and some of her students presented the project virtually at this year's annual ISTE Conference (International Society for Technology in Education), and we are so proud to see her class sharing this innovative project with educators from around the world! Explore the project in more detail at the website she created for the event!