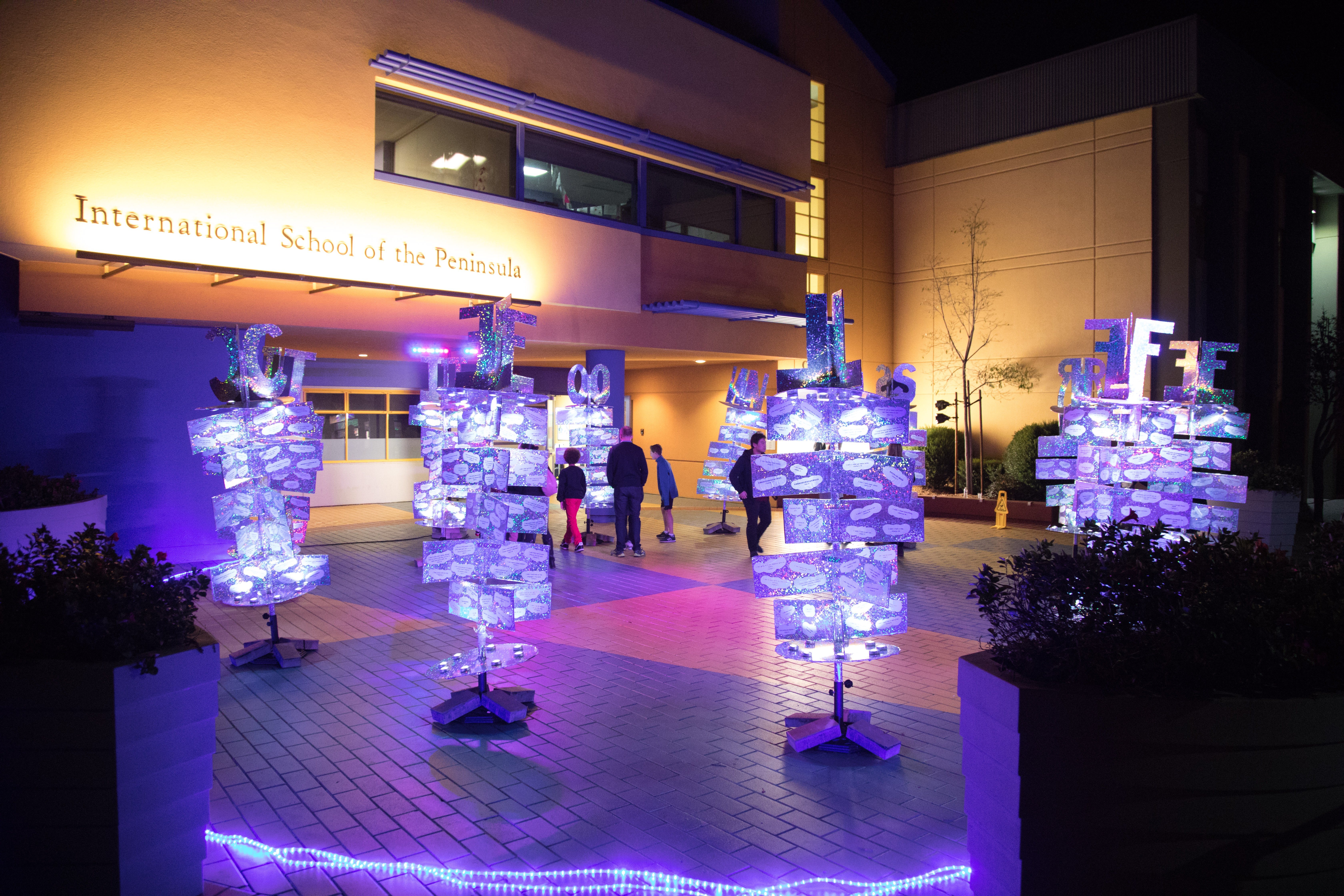 Arts Night 2018 featured work inspired by many types of reflections – reflections in water, in mirrors, with light, through lenses – but also thoughtful, considered reflections from our students about the world around them.
The theme "Reflections" was chosen for this year's Arts Night both because it was a versatile inspiration for many different types of artwork, and also because Reflective is one of the 10 International Baccalaureate (IB)* Learner Profile Attributes that our students, faculty, and staff strive to embody every day at INTL*..
This meditative sense of "Reflections" motivated the special art installation at the front of the school. 11 large interactive columns (one for each grade level) spelled out "Reflections," and each of our 565 students had a short personal thought represented in the display.
Students were asked to consider the questions "What brings you joy?" and "What in the world would you like to change?" Arts Night guests perused the answers, which were a fascinating glimpse into our students' thoughts. It was inspiring to see how diverse our students' answers were, really showing how each individual has his/her own unique perspective and ideas to contribute.
Responses were written in French, Chinese, and English, and ranged from the everyday to the profound –
"I like slurping noodles!"
"I like cooking with my grandmother."
"I like dancing, dreaming, friends and family."
"I like traveling, discovering new cultures and ways to live."
"I wish I could teleport because then I could get to school early."
"I wish I could go to the moon."
"I wish there were only weekends."
"I wish that my family will be happy, safe, healthy, and live a long time together."
It was also fascinating to see how the responses became more thoughtful and complex as students progressed through the grades. Topics changed from toys, pets, and superheroes in the early years, to contemplating the wider world, meaning, and morality in upper elementary and middle school.
The art inside the school featured many creative interpretations of the night's theme. One elementary school project had students create a skyline by cutting and burning wood, which was then beautifully mirrored in water using lights in a darkened room. Another project asked students to take inspiration from Monet's paintings of the water lilies at Giverny and create their own reflective landscapes with watercolors. In middle school, students used photo manipulation to play with the concept of mirroring, and used long exposures in a dark room to make striking compositions with light.
Other projects used the "Reflections" theme to dive into the imagination. In second grade Chinese class, students were asked to imagine a landscape in which they would feel in harmony with nature, and then to represent that landscape in a paper collage. These are just a very few examples of our students' work – check out the gallery below for more!
One of the great things about the IB format, as this year's Arts Night really demonstrated, is that its concept-based learning allows classes to pursue a wide variety of topics and approaches while always circling back to a central idea or key concept – in this case "Reflections." This IB-inspired approach to Arts Night was brand new this year, and we think it was a great way to create a meaningful and unified exhibition.
Each year's Arts Night is a huge endeavor, and the entire community comes together to pull off this celebration of the diversity and creativity of the INTL community. Thanks to all the parent volunteers who ironed curtains, hung the art, donated food for the buffet, and much more. A very special thank you to Art Teachers Haiying Yang and Anne-Sophie Gaudet, all of our Cowper Teachers, Art Chair Jessica Yansouni, and Food Co-Chairs Laetitia Kuttan and Saskia Chan. Arts Night would not be possible without you!
*In 2020, the International School of the Peninsula (ISTP) formally changed its name to Silicon Valley International School (INTL) to better reflect its bilingual programs, location, and international values.
*Only schools authorized by the IB Organization can offer any of its four academic programmes: the Primary Years Programme (PYP), the Middle Years Programme (MYP), the Diploma Programme or the Career-related Programme (CP). Candidate status gives no guarantee that authorization will be granted. For further information about the IB and its programmes, visit http://www.ibo.org