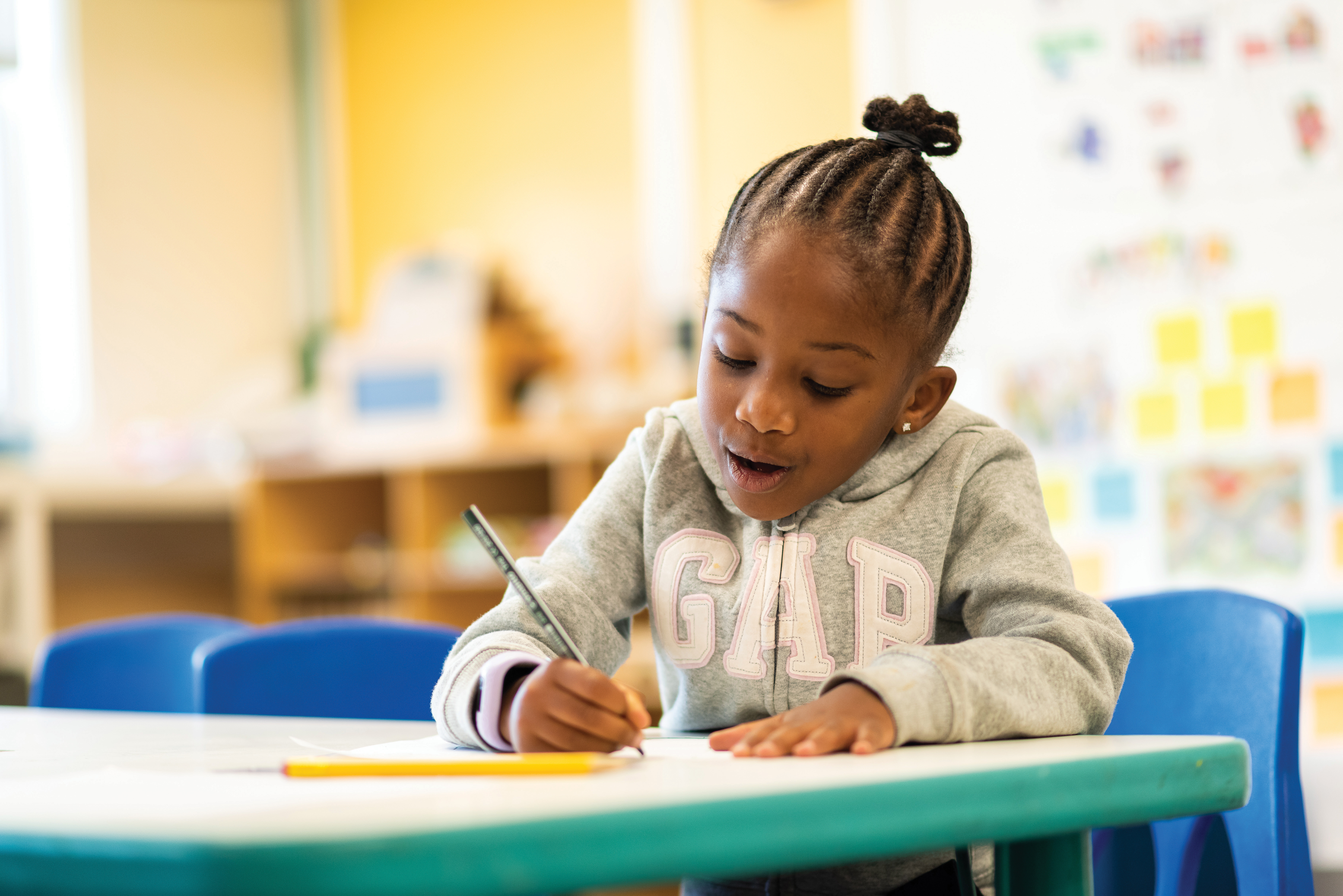 Before a child learns to read a book or to write a sentence, there are essential foundational skills they need to master in order to develop into a successful reader and writer – what we call pre-literacy skills. At Silicon Valley International School's Early Years Center, we are intentional in providing young students with the environment and opportunities to develop these foundational pre-literacy skills.
Oral language forms the first foundation of pre-literacy. The more the student speaks, the more they will understand the rules of language, and how language is used to convey meaning. Therefore, we continually encourage students to speak in both the target language (Chinese, French, or German) and English through pretend play, dramatic play, cooperative play, and other forms of play. As children are creating stories, interacting with the environment, and sharing their ideas, they are developing their oral language.
The learning environment also plays an instrumental part in pre-literacy development – it is essential to provide a print-rich learning environment. Teachers display the critical content of the unit as well as documentation of the students' learning journeys. Classes often have the central idea of the unit, the vocabulary that is closely related to the unit, and sight words displayed on the walls at the child's eye level to give children access to relevant print, even though they cannot yet read.
Some classes may display the see/think/wonder routine in both the target language and English. Besides these critical content areas, the teachers also write down students' thoughts on posters and display them. The students' work is also posted with captions, where students can see their oral language transferred to written language and can take pride in their voices being honored and celebrated.
Each classroom has a display of books in English and Chinese/French/German, as well as a comfy reading nook, to encourage students to curl up with a good book. Even without being able to read, students are still making connections between written language, pictures, and stories.
Lastly, the teachers provide many learning opportunities for students to practice their pre-reading and pre-writing skills. I want to highlight one of them here – mark-making. The Early Years teachers have been exploring different materials for students to engage in mark-making. Mark-making is quite literally, using an instrument to make a mark on a surface. When students practice mark-making, they are researching the relationship between different writing instruments with different types of surfaces.
It was amazing to see that when we offered ink-tip pens to the students, the level of detail in their work dramatically improved. One of the students even began to "write" a newspaper article, describing the news he heard that morning. Although the article looks like many zig-zag lines to the adult-eye, to that student, he is writing a story. In this early stage of mark-making, students are already thinking about being a writer and being a reader.
By exposing students to these foundational pre-literacy skills, they will acquire the necessary skills and oral language, gain the confidence to see themselves as readers/writers, and will be ready to receive formal reading and writing instruction in first grade.
*In 2020, the International School of the Peninsula (ISTP) formally changed its name to Silicon Valley International School (INTL) to better reflect its bilingual programs, location, and international values.