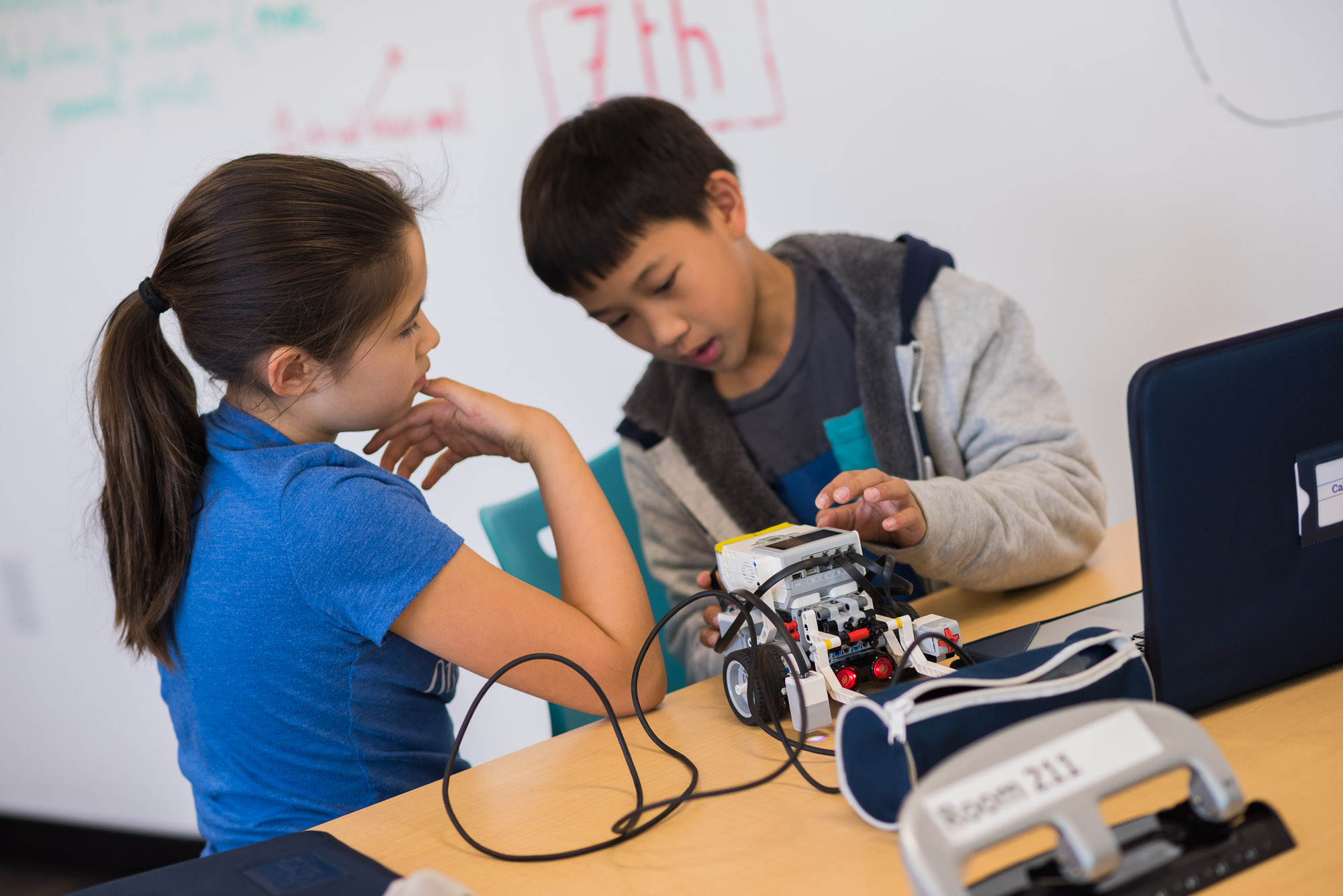 Flex Time is an exciting new program at INTL* that combines innovation, design thinking, and the arts to provide our International Middle School students with new outlets for their creativity.
Through both teacher-led and self-directed projects, students are challenged to impact the community, develop and prototype a new product, or learn more about a topic they are interested in. We are all very excited to see what they dream up this year!
The Flex Time program has two parts, and will take place each Thursday morning. During the first half of each semester, Flex Time is more structured, and students choose from among several exciting and fun classes, each led by a different teacher. During the second half of the semester, students pursue an individual Exploration Project on a topic of their choice. The Exploration Project is almost entirely student-led. The teacher serves as a guide and mentor, while allowing students to design their own learning experience, helping them develop skills such as creativity, autonomy, problem-solving, time management, and risk taking.
This semester, Flex Time offerings include: the science of baking and cooking with math teacher Clothilde Labrousse, Chinese calligraphy with Chinese teacher Jin Huo, creating an original short film with French teacher Pauline Fleau, and learning about circuits and soldering with design teacher Elisabeth Lepert – just to name a few.
The Flex Time classes are divided into visual arts, performing arts, media, and engineering. By the end of middle school, students are expected to choose one class from each subject area, and are encouraged to stretch themselves to try new things they might not have previously thought they would be good at or enjoy. Students get to choose a new class each semester, and will experience a wide variety of learning challenges throughout middle school.
For their self-directed Exploration Projects, students will choose from one of three goals – impact the community, research a subject you are interested in, or invent and prototype a new product. From that starting point, the student can take their project in any direction they dream up! Students will use a similar planning process for both their Exploration Projects and the Community Project they will complete in 8th grade as the culmination of the MYP* program. In both cases, students create a proposal that meets a community need and then work to put it into action.
Design teacher Elisabeth Lepert, who spearheaded the Flex Time program, says "the goal of the Flex Time classes is to trigger new passions and new interests in our students. We want them to develop their curiosity and to develop an inquisitive mindset – skills deeply rooted in our school's vision and mission."
Other skills students will strengthen through the Flex Time model include independence, communication, problem-solving, individual responsibility, time management, planning, and presentation skills.
Going into the new school year, all our middle school teachers are very excited to implement the new Flex Time program, and to help students discover new passions and put their creative minds to work!
*In 2020, the International School of the Peninsula (ISTP) formally changed its name to Silicon Valley International School (INTL) to better reflect its bilingual programs, location, and international values.
*Only schools authorized by the IB Organization can offer any of its four academic programmes: the Primary Years Programme (PYP), the Middle Years Programme (MYP), the Diploma Programme or the Career-related Programme (CP). Candidate status gives no guarantee that authorization will be granted. For further information about the IB and its programmes, visit http://www.ibo.org