On Wednesday, March 14, ISTP International Middle School students were inspired by fellow students at schools around the nation to participate in the National School Walkout to protest gun violence. The walkout lasted 17 minutes, beginning at 10am, to honor the lives of the 17 students who were killed during the tragic Parkland school shooting.
Marching out from the playground, many with signs they had made, students gathered at the front of the school, where some gave speeches, and they held a respectful moment of silence.
The middle school Student Council led the way to make the walkout happen, and they along with many other volunteers held discussions, made signs, and prepared speeches for the event.
One of the biggest themes of the day was the importance of students using their own voices to speak up when they see something they believe needs to be changed, and the necessity for adults to respect and value young people's ideas.
We asked some International Middle School students to reflect on what the walk meant to them.
Connor I., 6th Grade: "For me it meant that students can stand up for themselves, and kids also have a voice that should be respected and heard."
Enzo S., 8th Grade: "For me the walkout meant students being politically involved and doing something on our own."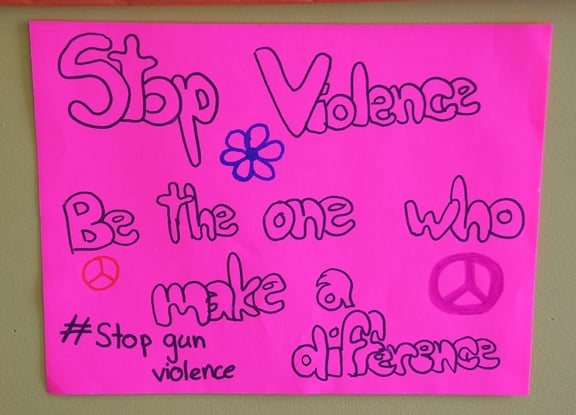 Middle School English Teacher Jacques Rancourt summed up his thoughts, "I was proud of the middle school students for organizing this walkout and for practicing their freedom of speech in such a dynamic way. As their speeches alluded, they are the ones at the center of this dialogue, and to take control of that conversation and to let their voices be heard is a powerful statement. From the discussions I've had with my students, I've been deeply impressed by the maturity of their thinking around what may be the first national tragedy they've faced as young adults, and their response gives me hope for the future."
Head of School Philippe Dietz also gave his take on the day. "Students demonstrated great awareness. They marched, sat together, and talked about the world around them. I was really proud to hear their remarks about what is happening in the world, and most importantly on how to prevent what happened from happening again."