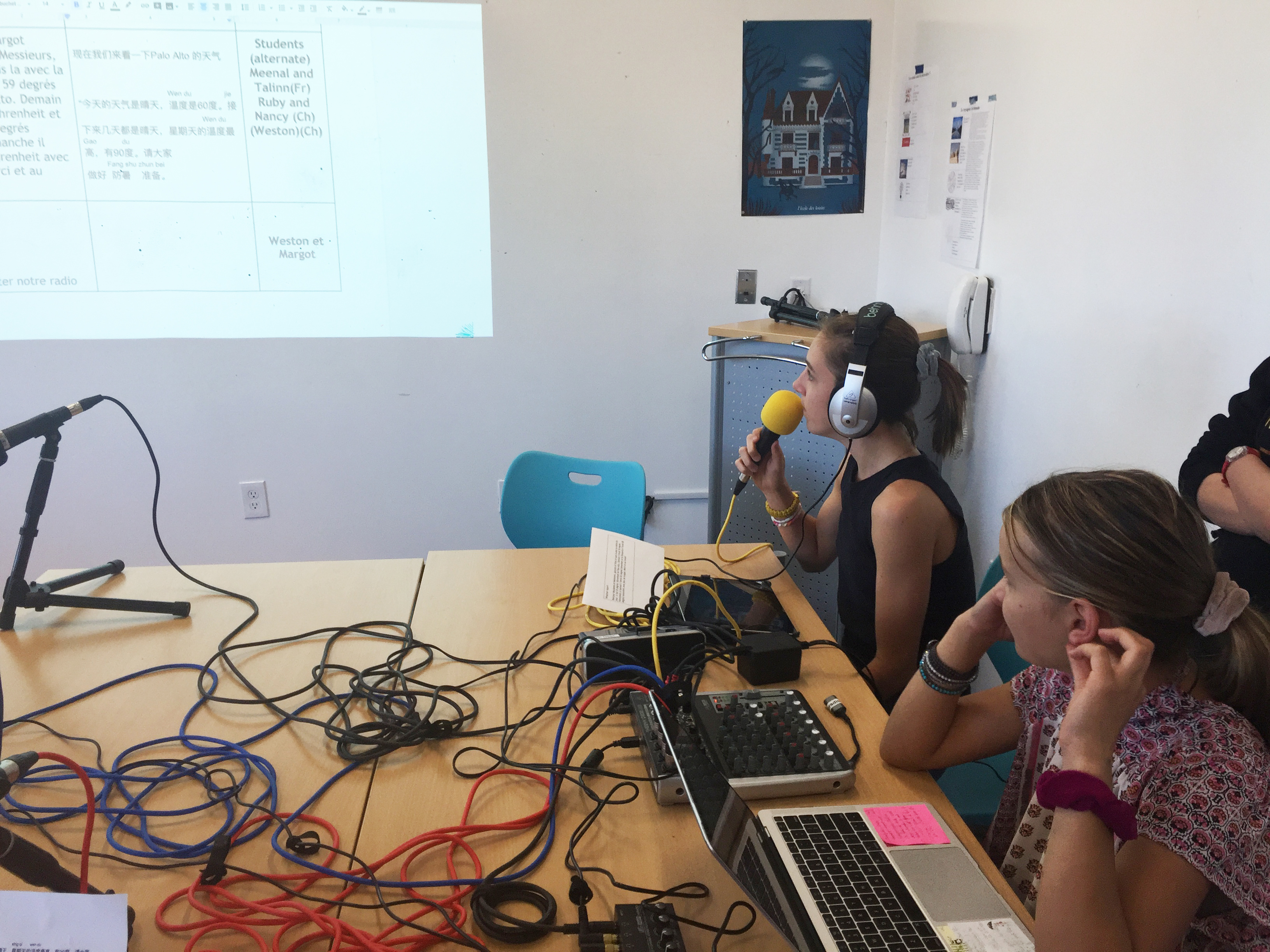 Today, an increasing number of us turn to podcasts to learn about the news, hear interesting stories told by fascinating people, or simply to learn something new.
As an immersive auditory experience, a podcast is the perfect vehicle to showcase language – which is why the Podcast Production Flextime class is a great fit for the International Middle School.
One of nine Flextime courses to choose from this semester, the class allows students to explore both the artistic and the technical sides of podcast production, led by teachers Anne Guionnet and Jin Huo. Students record a new episode of "Radio INTL*" every other week, presenting in alternating French and Chinese, and including music and "advertisements" prepared by the students.
The production is a group effort, helping students strengthen their communication and collaboration skills. Some students take on the role of journalists. They research current events they are interested in, learn how to evaluate the reliability of different news sources, and write a script for the podcast. They also have to practice their public speaking skills to present the information clearly and concisely.
Teacher Anne Guionnet explains, "The beauty of the project is the ability to record the radio program in two foreign languages – French and Chinese. The students need to support one another, they practice orally before going to the mic, and they show lots of respect for mutual language and culture."
Other students have taken on the role of producer/sound engineer, setting up the equipment and handling post-production with the Audacity audio software. Using Audacity, students get a real taste of what it means to edit together a podcast.
Mme Guionnet says that the technical side of the project has proved challenging for some, but other students have stepped up to take the lead. "Audacity is a very sophisticated tool, and some students have been able to manage it in no time, being very intuitive about it, and jumping into the tasks, being brave and curious. There are many technical details involved in the making of a sound track. They manage it quite well."
Mme Guionnet adds that learning about freedom of speech and the ethics of journalism has also been an important part of the class. "At first, students are surprised that they can pick their topic, but this allows them to discuss issues that are important to them. They also learn how to communicate their thoughts in a positive way."
Listen to Radio INTL yourself! Hear their most recent episodes at the links below.
Presented by Ruby W. (Chinese) and Meenal B. (French). The journalists are Pieric G. on Soccer (French or European teams and players) and Ruby W. on ice skating. Elizabeth L. handled the jingles, with Mathias V., Weston M. and Elizabeth L. acting as producers.
Presented by Nancy S. (Chinese) and Pieric G. (French). The journalists are Meenal B. on a snake with 2 heads, Talinn H. on Hurricane Dorian in the Bahamas, and the weather by Margot L. (in French) and Weston M. (in Chinese). Jingles by Margot L. and recording by Elizabeth L.. Ad (in Chinese) prepared by Tatiana M. with the help of Elizabeth L.
*In 2020, the International School of the Peninsula (ISTP) formally changed its name to Silicon Valley International School (INTL) to better reflect its bilingual programs, location, and international values.