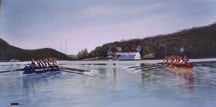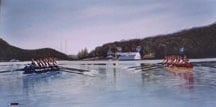 http://www.cnn.com/2010/OPINION/12/29/christakis.play.children.learning/index.html
So I begin this post with a disclosure – the above article was sent to me by my college roommate, and we had a good long laugh about the third paragraph, which, if read in a certain way, disparages our rival college. Through college and beyond, this was a running commentary – our school actually knew how to have fun and work hard- they were socially inept and worked hard. Now, this was all in the spirit of old tradition college rivalry, and I have my share of friends who went to said rival college, but we do still have the occasional laugh.
My old roommate sent it to me with the statement, "now I have research to back up forbidding my [3 year old] son to go to Harvard". Again, this is an exaggerated joke, but it is not only due to college rivalry but also a pushing back on her many friends, neighbors, and fellow parents who spend their lives and their children's lives making every choice with the ultimate goal of going to Harvard. Here in Silicon Valley, we could easily substitute Stanford, and the idea is the same – there are schools and families whose ultimate goal is a top university, and sometimes the other parts of growing up and becoming a global citizen are forgotten.
Now, I too would love for my daughter to go to a fabulous, well-recognized school. I know it has helped me in life, but I never would have been as happy as I am nor gotten to where I want to be in life without the plentiful opportunities I had to play, discover, work in groups, and be creative – many of which came from non-traditional educational opportunities that didn't rely on tests and benchmarking and outcomes, but from experience. I would much rather my daughter go to a school no one has heard of and be happy following her passions, than see her make choices based upon name only. Yes, the top schools have so much to offer, but so do many other schools, and it is the match that is important. Even more important are the journey and the process themselves, not as steps towards a particular trajectory.
In reading the article, I almost got sucked into the comments people posted – some I found uninformed and outrageous, and others sensible. But I stepped back to think about how it relates to INTL*. We try to provide a balance for students – by giving them practice in grammar, memorization, and more traditional ways of learning, but also by engaging in investigations, group projects, and collaboration. Throughout our curricula, in both immersion programs, we focus on developing critical thinking and responsible global citizenship. We might be a bit on the academic side, in order to reach our bilingual goals, so I hope that our students are finding time outside of school to discover, play, relate, and create. Ultimately, I look forward to when Ellen is old enough to have a balanced education at INTL.
*In 2020, the International School of the Peninsula (ISTP) formally changed its name to Silicon Valley International School (INTL) to better reflect its bilingual programs, location, and international values.