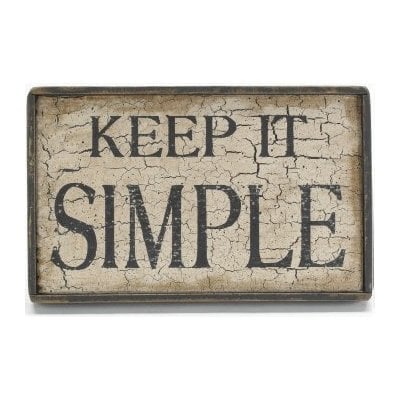 That's the theme of my PTA presidency this year. While it is wonderful to take a great idea from the year before and make it even better, sometimes I have to step back and make myself remember what it is being done for, really.
One of my favorite motivational quotes is "if you can't be a good example, then you'll just have to be a horrible warning". Dear reader, let me give you an example of why you should "keep it simple, sweetie".
Full disclosure: my name is Cee, and I'm a recovering over-planner. Yes, I was once addicted to making sure every single detail was "perfect", and only my definition of perfect was good enough. Let's say that having kids lowered my ability to achieve this, and time has lowered my tendency to worry about it.
The first year that my daughter was at INTL* is a good (or is that bad) example. Our class holiday party had such an oversupply of catering that it was ridiculous. We had a whole table of delights for the kids (and really, who needs that much sugar right before the holidays?). However, we also had a whole table of delicacies for the parents and teachers. Crackers, fresh baguettes, pate, cheese (camembert, brie, cheddar, gouda, edam, and more), charcuterie (just about every form of dried or preserved pig and cow that you can imagine), pickles, veggie and fruit platters (hand-made, not store-bought), and two (yes, TWO) Buches De Noel (those fabulous frosted French gateaux that spectacularly look like a log of wood with frosted bark and miniature marshmallow mushrooms). Parents wandered in from other classes, and other grades, to "visit" with us and our epicurean supply. Their kids wandered in with them. And then wandered off without them. It was the afternoon before the winter holiday break, and so teachers were trying to track down their students for goodbyes, sign-outs and report cards. I think that by about 2.45 pm Patricia M. would have been happy to kill me. She would have had plenty of paper and glittery supplies with which she could have hidden hide my corpse, because we went a little overboard with the decorating too.

Does my daughter remember this glittering feast? Not a bit. In fact, her most memorable school party of the pre-K to 5th years is the one with the birthday cake pyramid of sugar donuts. Bought from Krispy Kreme. For your elementary or early-years child, the best party is the one with a handful of crackers, a small cupcake, and some free play time. Just make sure that cupcake is actually a yummy one.
*In 2020, the International School of the Peninsula (ISTP) formally changed its name to Silicon Valley International School (INTL) to better reflect its bilingual programs, location, and international values.