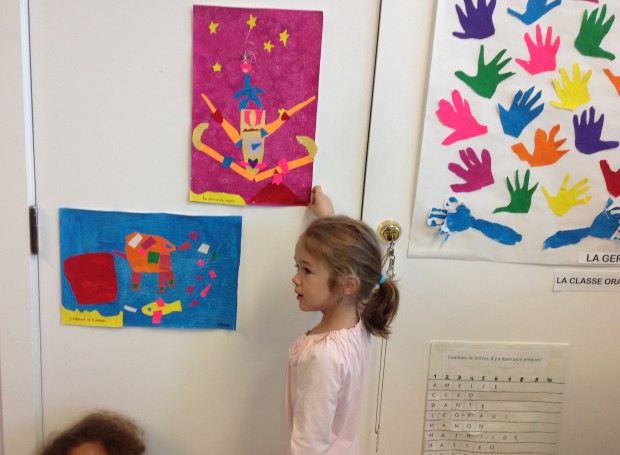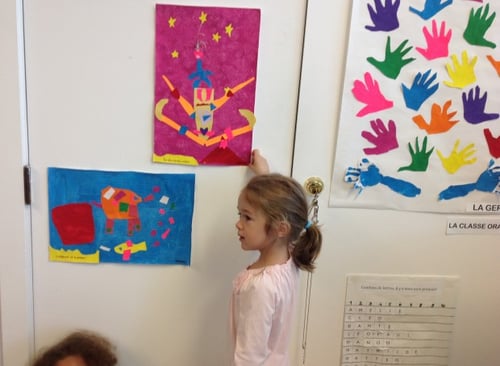 This October, French Kindergarten teachers Mélanie Laporte and Helena Terral used the work of French artist Henri Matisse as a jumping off point to bring creativity into their classrooms. Although many of us might not have learned about Matisse and his colorful paintings, sculptures, and paper collages until High School Art History class, Mélanie and Helena knew that Matisse was the perfect artist to introduce to their kindergarteners.
Mélanie explains, "Matisse's cut-out/collage technique is accessible to children of this age, and we thought the children would be attracted to his colorful style. It was also a great occasion to discover a French artist." In addition to Matisse's inherent appeal, the Cantor Arts Center at Stanford University was hosting a Matisse Jazz exhibit, featuring his paper collage works. With only a short field trip, students would be able to see his works firsthand.
To prepare for the field trip, students learned about Matisse's art and life. Mélanie and Helena especially focused on the colorful paper cut-out collage technique Matisse developed, which he called "painting with scissors."
Mélanie explains that to introduce students to the technique, "we watched a short video showing the real Matisse working on a collage. The children asked to see the video many times and watched with much interest. I had the feeling they felt a true connection with Matisse at that moment."
By studying his works beforehand, Mélanie says, students were able to have a richer experience at the museum. "During the fieldtrip, they were very engaged, and loved playing an "I spy" game to identify the works in the Matisse Jazz collection that they remembered. They excelled at recognizing all of the collages!"
After their field trip, students tried their hand at Matisse's paper collage technique, creating their own exuberant, colorful works of art. Students used the same tools that Matisse did: painted paper, scissors, and glue. Mélanie and Helena instructed students "to imitate Matisse by cutting shapes, and to create anything that made them feel happy and satisfied."
Mélanie reports that her students were able to "trust their creativity, to explore shape and color freely, without restrictions other than the paper and scissors."
After students completed their collages, Mélanie and Helena hung the works in a miniature gallery in the classroom. Students explained to each other what they did, and decided on a title for their works. Later on, the other Kindergarten classes came to see the exhibit, and "our children were a little shy but they were proud to present their work."
Mélanie and Helena were very proud with how the activity turned out and the creativity their students demonstrated. Mélanie says, "They applied themselves in this meticulous creative work and the result is impressive."
Helena adds that she was happy to "give the students new tools and the conceptual means to understand one artist's choices/style."
*In 2020, the International School of the Peninsula (ISTP) formally changed its name to Silicon Valley International School (INTL) to better reflect its bilingual programs, location, and international values.