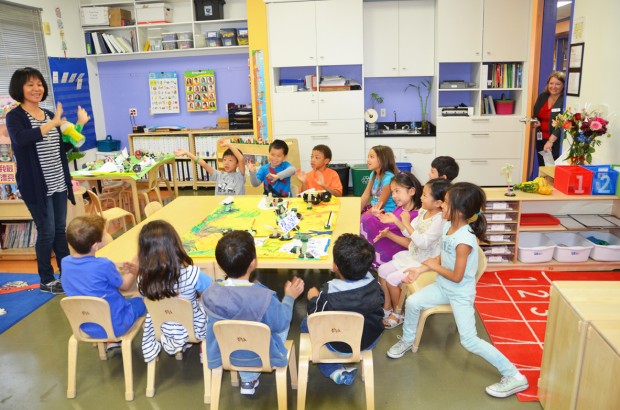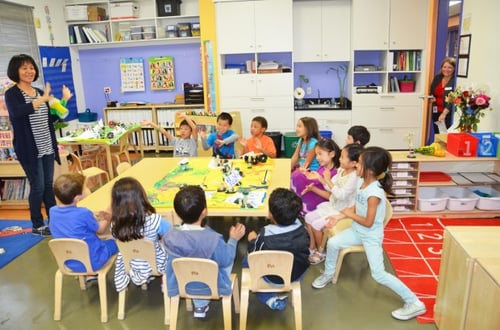 On Tuesday morning in Portia's 1st grade Chinese classroom, students were buzzing with excitement. The class was gathered around a tableau they had created themselves, collectively writing their own story about the scene before them. The activity was part of a unique interdisciplinary project, emphasizing design thinking and storytelling skills, that Portia had developed for the class.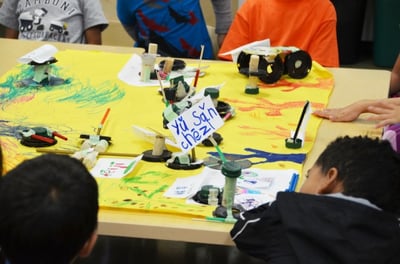 To begin her multidisciplinary project, Portia presented her students with various scrap materials, including old cd's, corks, straws, drink lids, and more. She instructed students to design an object from the resources before them. Portia explains, "For the first project of the year, I wanted students to design whatever they wanted, based on their individual strengths and interests."
By using recycled items, Portia incorporated the idea of sustainability into her project. The class became very excited about the construction process, and also brought in their own recycled items to use in their creations.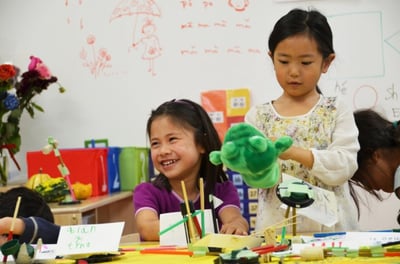 Students used their imaginations to dream up a diverse array of objects, including an airplane, boat, umbrella, elevator, hat, water fountain, skyscraper, and "spy camera." The activity was an ideal way for students to utilize the brand new design thinking areas of the classroom, and to work on developing their fine motor skills.
Next, the class worked together to create a backdrop in which to situate their objects. They created their own small world, complete with an ocean, sky, and airport.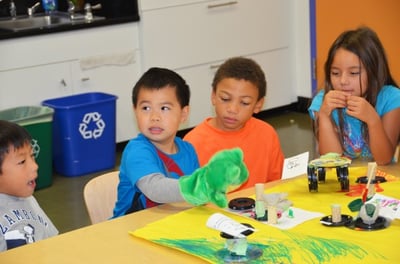 For the final step of the project, students gathered together to collectively develop a story to fit their objects and scene. As students took turns adding to the story, Portia recorded the events in Chinese characters. The story featured a cute puppy that took an exciting trip to Hawaii to visit his favorite friend.
Portia explains, "A story is a great way for me to evaluate students, especially their speaking and listening skills."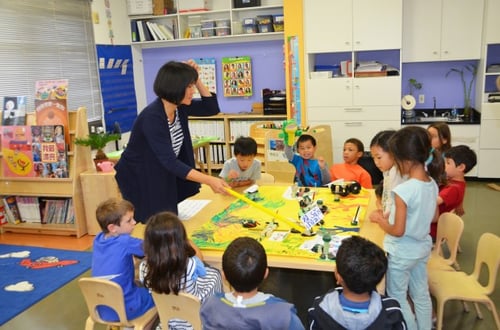 Portia's classroom is one four pilot classrooms in 1st and 2nd grade that were built over the summer as part of our Expansion for Innovation Capital Campaign. Each classroom has new furniture specifically designed to encourage collaborative learning and design thinking, and the project is an excellent example of how this new furniture is helping to facilitate the dynamic classroom INTL* strives to create.
Portia concludes that the project was a great success. "INTL students are so curious and creative. I am inspired by their creations and their imagination."
*In 2020, the International School of the Peninsula (ISTP) formally changed its name to Silicon Valley International School (INTL) to better reflect its bilingual programs, location, and international values.