"With love's light wings
did I o'erperch these walls
for stony limits
cannot hold love out"
–Romeo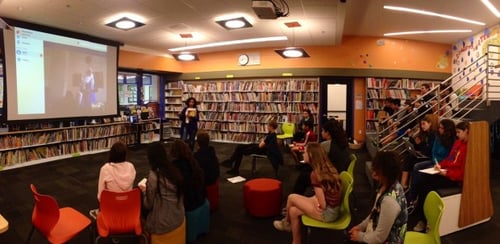 At the beginning of the year, an enthusiastic group of middle school students approached me with an idea for a new project. They wanted to found, staff, and publish a Middle School Newspaper, a dream they said they had been envisioning since fourth grade.
With a confident and motivated group of thinkers, writers, and web technicians from across the grade levels at the helm, the students made it their mission to discuss important issues and world events with the goal of informing their peers and community of what's happening in world news, local politics, pop culture, or our own community through the tool of web journalism.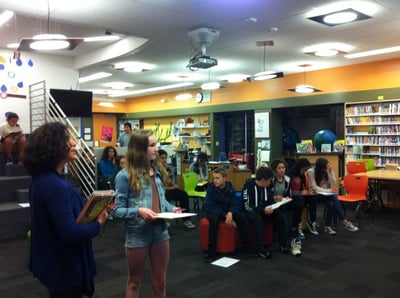 The sense of drive and excitement these students shared for investigating and reporting reminded me that the best classroom projects are the ones that grow organically from the seed of student inspiration. The project that grew from this experience, which is the subject of this blog post, was also a vivid and exciting reminder of how exemplary learning units and classroom experiences often come from imaginative collaboration between teachers, allowing a learning experience which transcends its subject and infiltrates the "real world."
When INTL* History-Geography teacher Olivier Berton and parent Leila Munif suggested we try to connect our clubs for an interdisciplinary project, I was thrilled, especially since the project itself was so exciting: a children's theater group in Syria staging Shakespeare's Romeo and Juliet in the midst of national strife and civil war. For weeks, we waited for the right time to connect, having already raised money for the group's Kickstarter fund and prepared a slew of questions for the actors and directors. When the time finally came, students were ready with their laptops and notepads, eager to finally embark on a truly hands-on journalistic experience.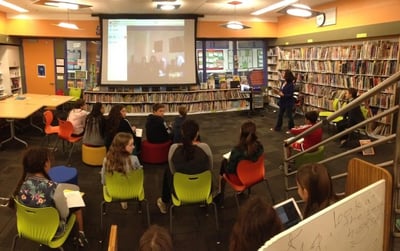 The air was tense as students and we teachers began to assemble ourselves in the still new Media Hub on Cohn Campus. The large projection screen scrolled slowly down, and students began to gather their notepads and writing instruments as Skype was loaded onto the projector. Our first hurdle was the connection. No guarantee could be made that we would be able to connect with our contacts; thousands of miles apart from an area already scarce on resources and web connectivity, we all breathed a collective gasp and let out a small cheer when we made a clear connection with our Syrian peers. The assistant director of the theater, Abu Amin, along with four young actors between the ages of 13 and 16, all joined us for the duration of an impassioned hour-long communication that proved revelatory to all involved.
As we spoke with the group, INTL students led with thoughtful questions. Our Syrian hosts were gracious and energetic as Mrs. Munif translated from Arabic into English and back again in a display of bilingual dexterity. When asked why the group decided to stage Shakespeare's tragedy (a play we read in 8th grade here in Middle School), Amin poetically started by saying their goal was to "To scream out loud to the exterior and to the media; we are tired of children being shown in pain," he said passionately. "We wanted to show them as happy as can be to show that in this time there is still art and creation during this difficult time."
The circumstances of the production paint a grim, but inspiring portrait of art emerging from a barren landscape, where children the same age as our own middle school students have lived within the dangerous apex of wartime reality for some time. Staged partly in a refugee camp in Jordan featuring live-action video live-fed via Skype from Syria, the play is a feat best described as a multimedia theatrical political statement. Theatrically, the production is unique, demonstrating Shakespeare's adaptability and relevance to modern times; to an equal extent, it displays the larger power of theater and performance art as a powerful healing force and therapeutic experience for young people.
For us here, Shakespeare and other theatrical masters are largely studied for linguistic, literary, and entertainment value. Theater in Syria, as the children explained, was different. Acting became a way of life, "A moment of peace to go into [Nawar, the director's] house–a moment away from the war," said Radwan, 13, who plays Romeo in the play. "Every day, all we saw was bodies and destruction, snipers everywhere. Here, in the theater, we felt safety and happiness. We felt we could be normal kids again."
Indeed, these facts were sobering to us; even more humbling was the enthusiasm these children showed us, and their eagerness to tell their story to us. It was an emotional moment; how strong these young people are, and how their story inspired us and made the meaning and impact of theater powerfully tangible.
Our students had some takeaways that summarize the impact of this transformative project on their young perspectives and worldviews. "Living in Silicon Valley," reflected Nicholas, "We were really reminded how technology enables communication with people in crisis, offering a glimmer of hope to these people," referring to both the members of the production and the audience, who have crowded into makeshift theaters to see the play, which they deem a symbol of their survival and celebration of their power to overcome.
This powerful, emblematic idea was certainly striking to us all. "Communicating with these children in a besieged city is unique and inspiring," affirmed Remi, as Lou thought about what most impacted her. "The thing I remembered most was their dreams to rebuild," Lou offered, going on to comment that "Their determination to cry out for peace and their desire to get an education is most inspiring of all." Katia summarized our collective sentiments when she stated, "We were all highly impressed by the creativity, intelligence, and eloquence of these students, despite the hardship and struggles that they had to go through at such a young age." It's easy to see the students were thrilled to speak to these young people who had collectively inspired us all, so eager to share their stories and ask equally engaging questions of us. Each member of the INTL audience was moved profoundly.
Thanks to the leadership of Olivier Berton and the initiative of middle school parent Leilia Munif, this unique interdisciplinary project made a deep impression on student, parent, and teacher alike. I hope that next year's middle schoolers and generations of students to come will carry forth the spirit of entrepreneurship and civil engagement embodied by these students, exemplifying the school mission's devotion to bilingualism and global citizenship.
*In 2020, the International School of the Peninsula (ISTP) formally changed its name to Silicon Valley International School (INTL) to better reflect its bilingual programs, location, and international values.