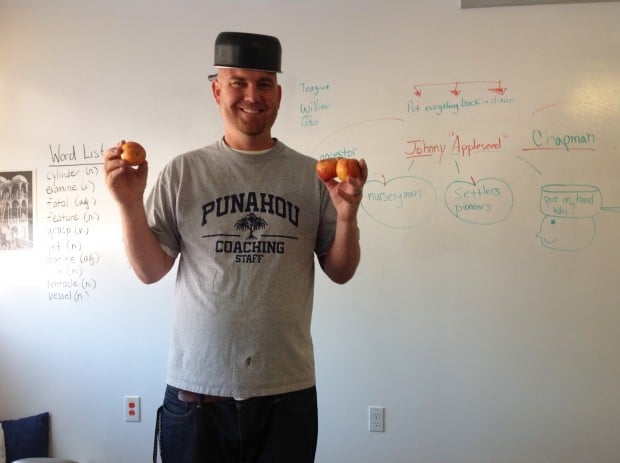 At INTL, teachers enthusiastically look for connections across subjects, languages, and grades. These connections often crystalize into meaningful interdisciplinary projects that pique inquiry-based learning. Interdisciplinary projects help students thrive in their learning experience, motivate them to develop confidence in taking risks, and encourage them to think "outside the box" during learner-centered activities. Research indicates that in an immersion setting, motivational factors are crucial for the development of self-perception and self-actualization.
At INTL, teachers develop interdisciplinary projects trans-culturally within an atmosphere of camaraderie. For example, in my third grade English class, my students are currently reading Johnny Appleseed as part of their "tall tales" unit in language arts. We were able to use this book as a jumping-off point, and make connections across many disciplines.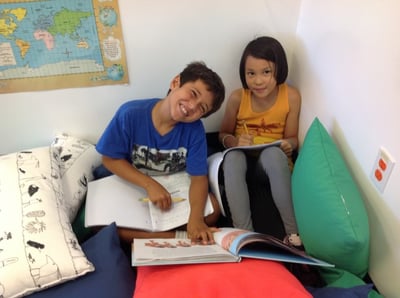 First, we made a connection to the third grade geography curriculum by studying the Midwest region, where Johnny Appleseed planted his apple trees. Students labeled and decorated a map, talked about the geographical features of the Midwest, and created a puzzle game to help reinforce the names and location of these states.
We made another interdisciplinary connection when the science teacher, Terry Chapman, visited my English class as a guest speaker. Coincidentally, Terry is related to the actual historical Johnny Appleseed, whose real name is John Chapman! With a pot on his head like Johnny Appleseed was known to wear, Mr. Terry linked the concept of a timeline in the third grade social studies curriculum to his own family lineage. Additionally, I linked eating apples to Terry's science unit on nutrition.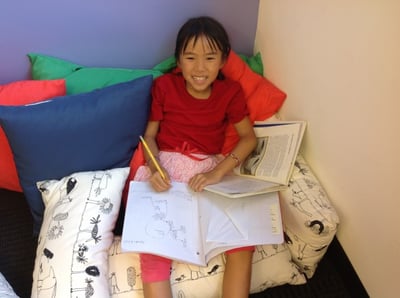 Students also learned about how Johnny Appleseed was a peacemaker between the Native Americans and the settlers. We were able to connect this fact to our social studies unit on Native Americans.
After studying Johnny Appleseed as a form of "tall tale," students expanded the concept of myths and storytelling to learn about the story of the Chinese Moon Festival in Chinese. This broadened students' perspectives, on a transcultural level, and we discussed this connection in English class.
Throughout the history of education, making connections across disciplines has always been seen as a valuable way to reinforce student learning. This is especially true in an immersion setting, and it was extraordinary to be able to make so many interdisciplinary connections throughout our Johnny Appleseed unit.
*In 2020, the International School of the Peninsula (ISTP) formally changed its name to Silicon Valley International School (INTL) to better reflect its bilingual programs, location, and international values.