A night of excitement and extravaganza! Another wonderful Soirée du Vin has concluded and it was surely one for the record books. It was the first wine auction at full capacity since before the COVID-19 pandemic and both the dining room and back-deck patio were filled to the brim. The 2022 installment of Soirée du Vin brought in 110 attendees and a whopping 29 auction lots. The wine-tasting hour was phenomenal, the gourmet wine-paired dinner was delicious, and the live auction was nothing short of electrifying!
Elegant Wine Tasting Hour
From the very first minute of the tasting hour, it was easy to sense the overwhelming joy and enthusiasm of the crowd. The environment all throughout the venue was engulfed in happiness and euphoria. There was not an individual without a smile on their face.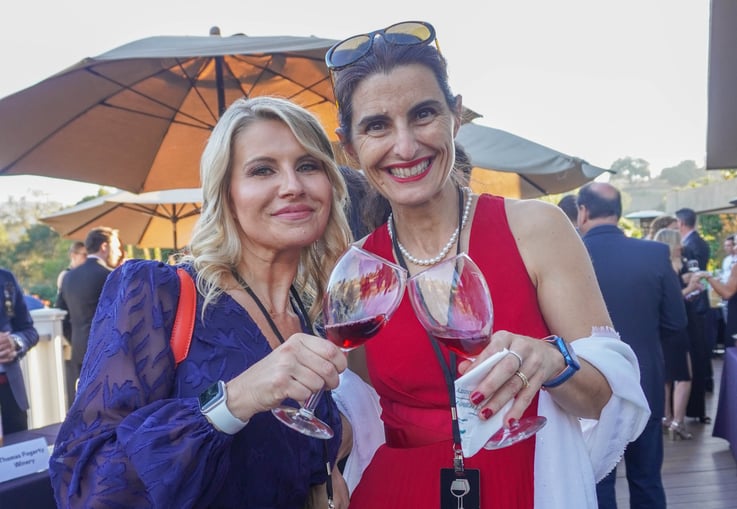 Each pourer's table had an abundance of guests who were eager to taste the wide variety of wines on display. The ambiance on the back deck was a healthy combination of both chatter and laughter from the many wine enthusiasts. The overarching theme throughout the night was for both parents and alumni to relax, thoroughly enjoy the event, and reignite their love and passion for their favorite wine auction.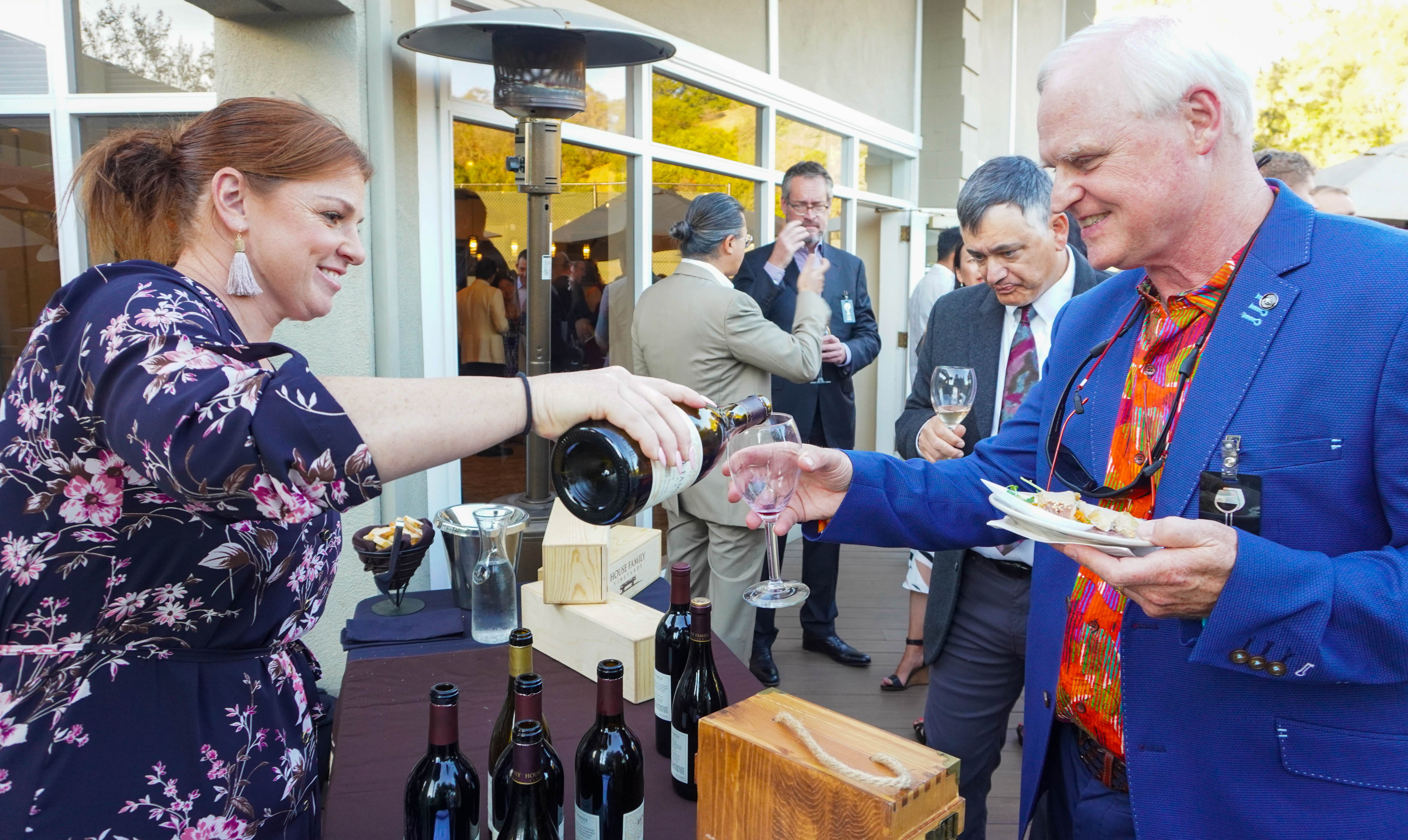 This year's Soirée du Vin featured six fabulous vintners who dazzled eventgoers with their array of quality wines.
Domaine Dardagny

ENA Winemakers

Thomas Fogarty Winery

Ridge Vineyards

Clif Family Winery

House Family Winery
Despite most of the wineries having been represented before, it was their first time at Soirée du Vin for a few of these pourers, and we're happy to say that they left feeling excited to come back again next year!
Sought-After Swiss Wine Makes Its Appearance!
Our Special Guest Speaker for this year's Soirée du Vin featured Dylan Stine from Domaine Dardagny INC. If you have never had the opportunity to try Swiss wine you are not alone. The extreme rarity of Swiss wine is due to the fact that only 2% of their wine is exported outside of Switzerland. The rest is kept in the country to the delight of the Swiss citizens to consume and enjoy!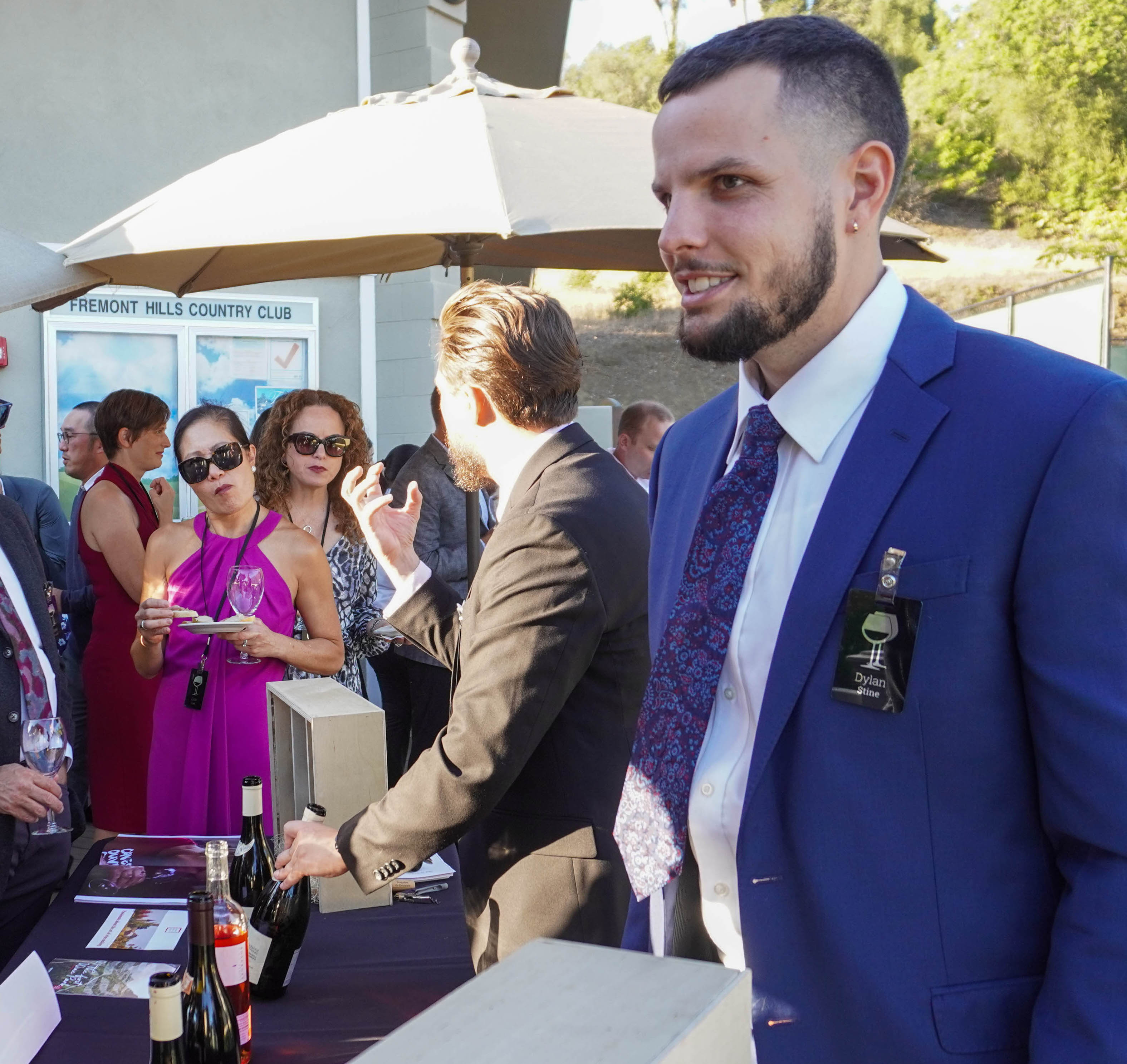 Event goers were lucky enough this year to get a taste of not just one, but multiple highly desired bottles of Dylan's Swiss wine that was exported from Domaine du Centaure, his family's winery which is located near the France/Switzerland border and just 30 minutes west of Geneva. Additionally, Dylan also was kind enough to auction off three of his sought-after Swiss bottles along with a tasting tour and overnight stay at the luxurious Swiss Vineyard.
Delectable Gourmet Dinner
The dinner portion of Soirée du Vin opened with a speech by Dylan who began by reminiscing about his childhood and frequently visiting his family's winery. As a young child, he grew up watching his cousins, uncle, and grandpa in admiration as they worked tirelessly on the family vineyards. Lending a hand wherever they'd let him - from riding on the tractor with his grandpa, placing bottles on the assembly line, or stacking pallets - Dylan always dreamt of being part of the family tradition and finding his role while being halfway around the world in Oakland.
"As time went, I grew to appreciate the craft. The stages of viticulture that went into creating a single bottle of wine," Dylan said.
Domaine Dardagny began in 2020, during the heart of the COVID-19 pandemic. As one of the few importers of solely Swiss wine in the world, Dylan says that the goal of Domaine Dardagny is to equally import wines from all across Switzerland in order to properly represent the diversity that the country has to offer while simultaneously helping those family vineyards.
"Switzerland is actually the most diverse wine-growing region in the world growing over 250 different grape varieties," Dylan said. "Switzerland is also leading the world in sustainability, with the highest percentage of wineries converting over to natural or biodynamic winemaking practices."
Dylan concluded his speech by thanking the audience and hoping that they enjoy the gourmet dinner that was paired with a few of the phenomenal wines in the Domaine du Centaure repertoire.
The first course of this delectable meal began with an appetizing salmon medallion surrounded by a potato leek puree and topped with kale. Of course, this salmon plate was paired perfectly with a glass of 2019 Les Danaïdes Chasselas from Domaine du Centaure.
This was followed by a mouth-watering Moroccan lamb rack complimented with turmeric couscous and eggplant ratatouille. The dish was excellently paired with a glass of 2019 Domaine Chante Cigale Châteauneuf-du-Pape.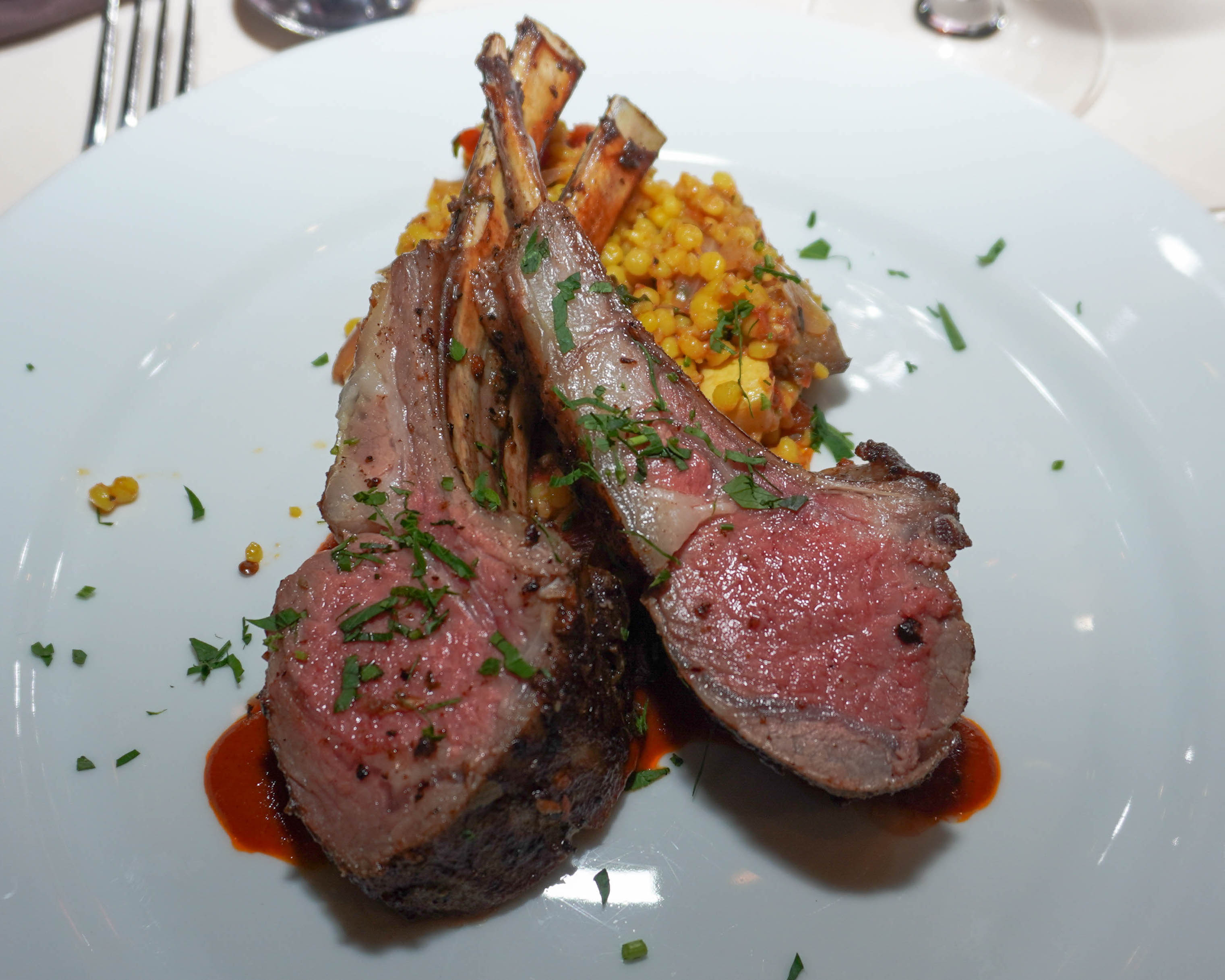 In between the exquisite wine-paired courses, guests were served a plate containing a trio of quality European cheeses that packed a tasty punch.
For the grand finale of this elegant gourmet dinner, guests were brought a zesty lemon tart that was fantastically paired with a glass of Le Chant des Sirènes Pinot Gris, Domaine du Centaure's signature dessert wine.
A Live Auction for the Ages!
While the audience was enjoying the scrumptious food, a live auction was underway! The auctioneer, Greg Quiroga, commenced the auction with a very vocal "Bonsoir Soirée du Vin!" as he quickly excited the crowd with his upbeat personality and lively gestures. Now a 15-year Soirée du Vin veteran, it is always such a treat to have Greg at the center stage of our premier wine auction.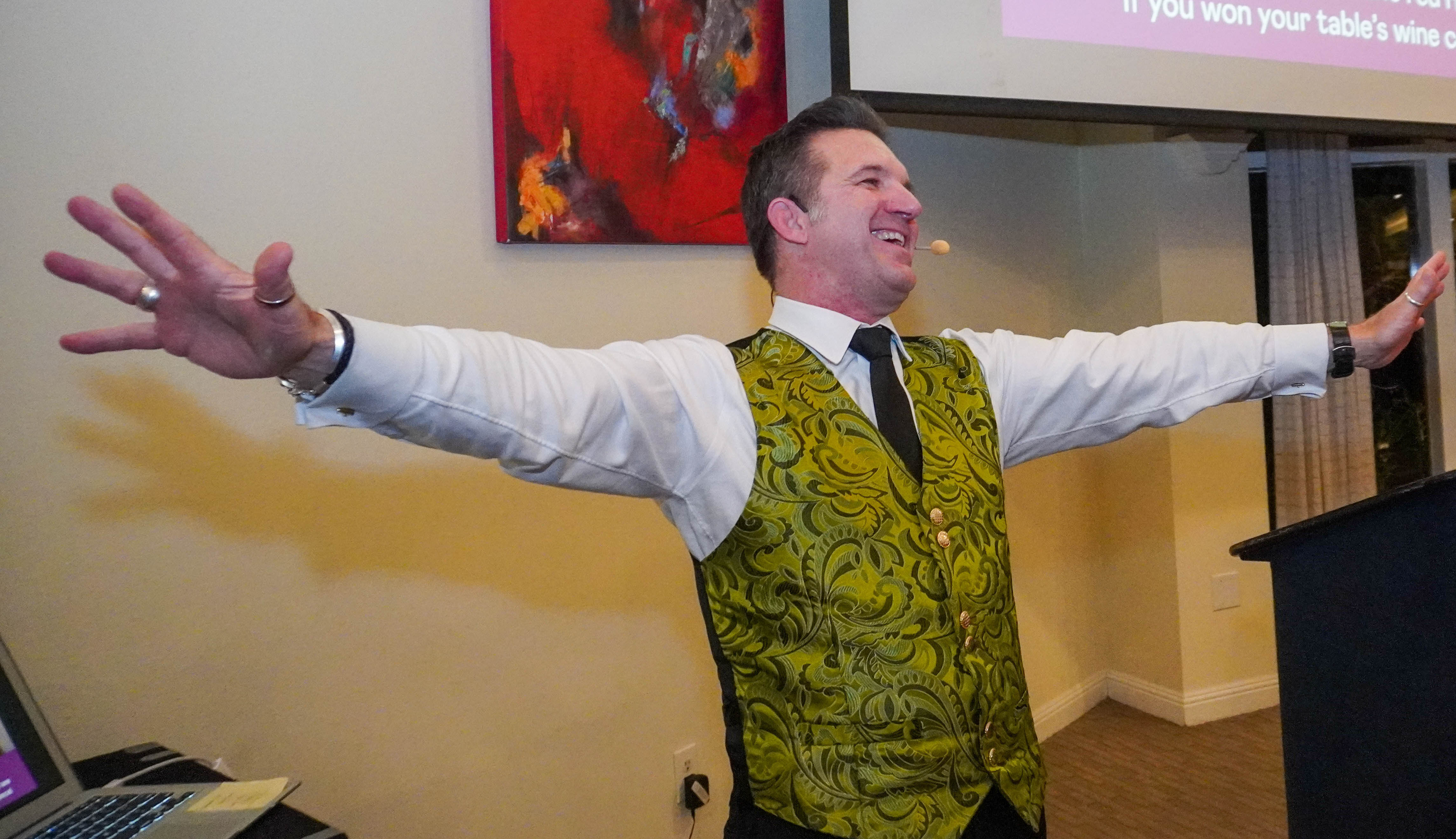 Similar to the wine tasting hour, there was an overwhelming sense of elation and exhilaration all throughout the live auction. There were multiple occasions in which everyone at a table would jump up for joy and loudly cheer in response to winning one of the many hot commodity bidding items. High fives, fist bumps, and champagne toasts were a frequent occurrence after each and every auction item found a home. There was even a table that began dancing and chanting "Beat LA!" during the auctioning off of Golden State Warriors theatre box seats.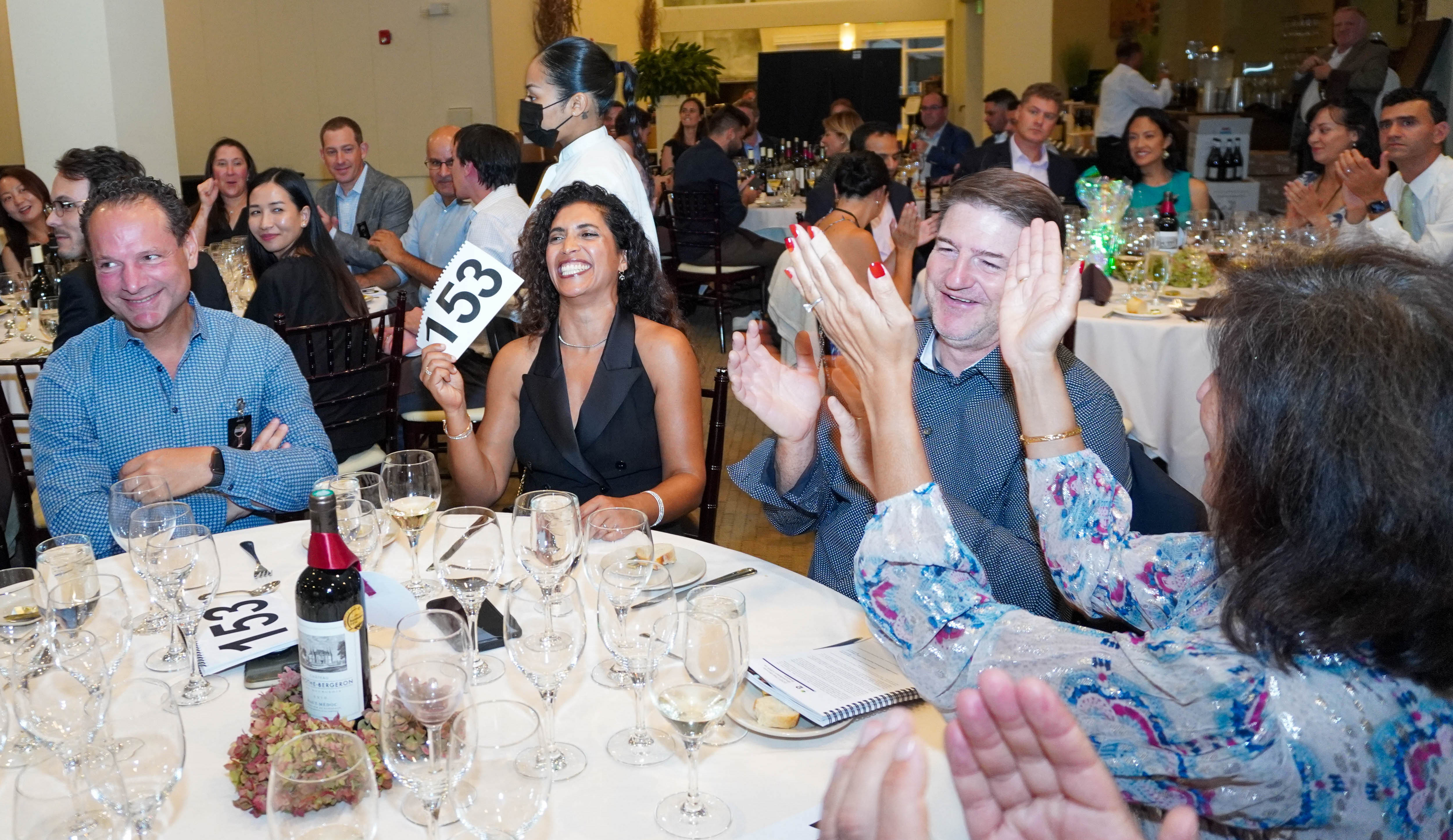 High-Selling Auction Items!
A common theme throughout the live auction was the popularity of the items that were bid on by the eventgoers. It was easy to see the desire to win in the eyes of the guests as their unbridled enthusiasm saw paddles constantly being raised in response to one another.
One of the many high-selling auction examples was a bottle of the incredibly rare 2009 Château Haut-Brion. The combination of 2009 being one of the best wine-growing years in recent memory with the fact that Château now produces very limited amounts of wine makes this legendary bottle nearly impossible to come by.
The lucky winner of this stunning bottle secured her victory with a bid of $7,000. She was so adamant to win the lot that by the end of the bidding war, she strutted to the middle of the room with her paddle raised high in the air letting everyone else know that no one was going to stop her from possessing the fabulous Château Haut-Brion.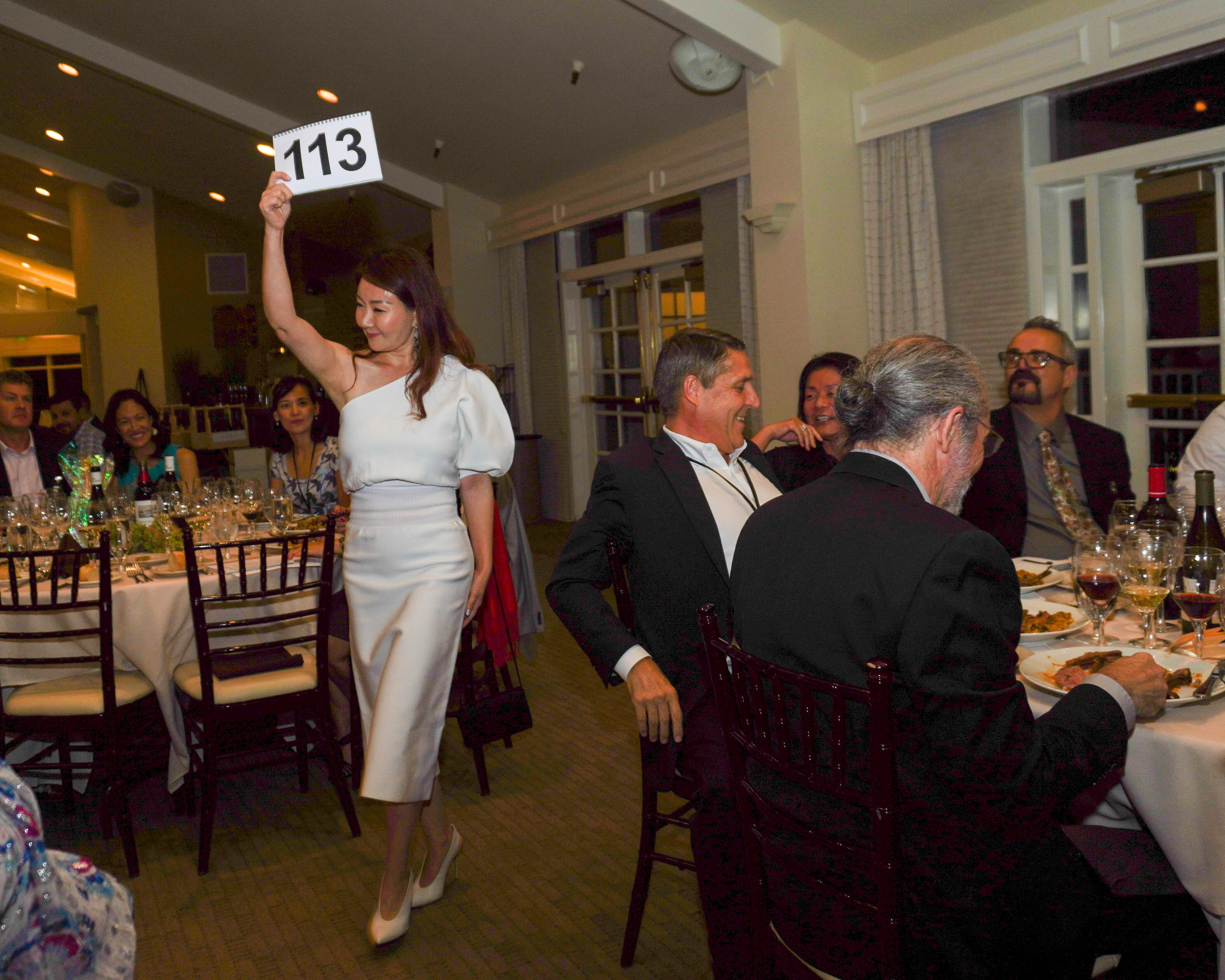 Despite the 2009 Château Haut-Brion going for top dollar, the highest selling auction item of the night was from ENA Winemakers. The two founders of ENA Winemakers, Eglantine Chauffour and Alberto Bianchi were generous enough to donate a private lunch and vertical tasting for six guests at Mariah Vineyards up in the beautiful mountains of Mendocino Ridge. In addition, the winners of this auction also received three magnums from ENA's collection which included 2020 bottles of their Pinot Noir and Sauvignon Blanc along with a 2021 bottle of their Eurica. Although Eglantine and Alberto's lot began at $600, the winner claimed this breathtaking wine tasting experience with a whopping final bid of $12,000. This marathon of a bidding battle was definitely a sight to behold!
Thank You for an Amazing and Record-Setting Soirée du Vin!
At the end of the night, our parents and friends left the event in the same mood in which they arrived. With laughter, smiles, and hearts full of joy after attending this unforgettable wine auction experience.
One of the most memorable highlights of this year's Soirée du Vin was the enormous amount of funds that was given back to the INTL community. For the first time ever, the live auction raised over $100,000 for INTL's Charlotte de Géry Endowment Fund which will go towards ensuring that INTL is able to continue its mission of academic excellence indefinitely. On top of that, a gracious $29,000 was raised by the eventgoers alone for Fund-the-Future.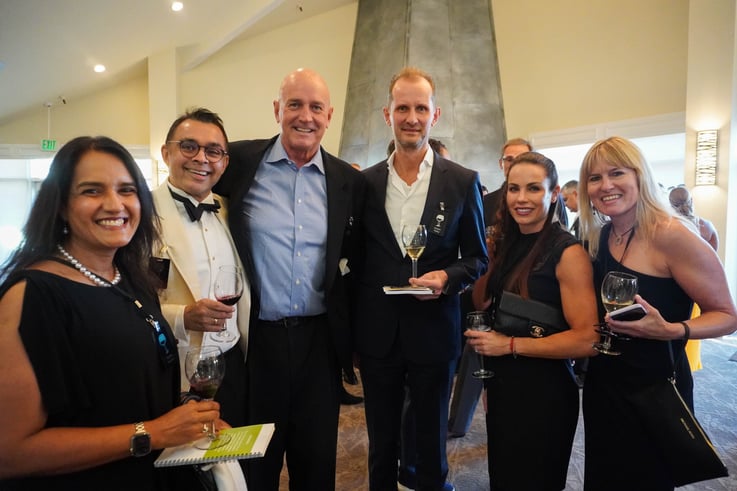 As a whole, Soirée du Vin this year was a unanimous success. This event showcased that INTL has an incredibly tight-knit and well-bonded community that is fervently passionate about two things, wine and education. Thank you to everyone for supporting our school and coming to Soirée du Vin, and for those that couldn't make it, we look forward to seeing you there next year for another magnificent evening!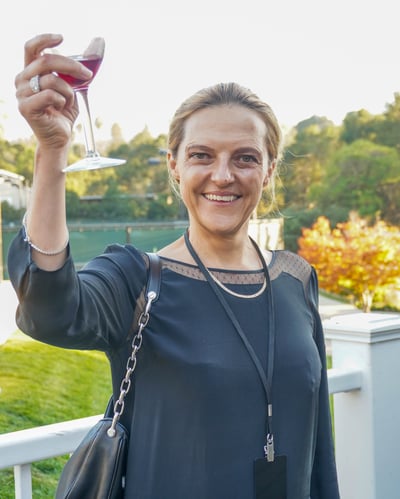 To learn more about Soirée du Vin and any up-and-coming information regarding next year's event, visit soireeduvin.org.