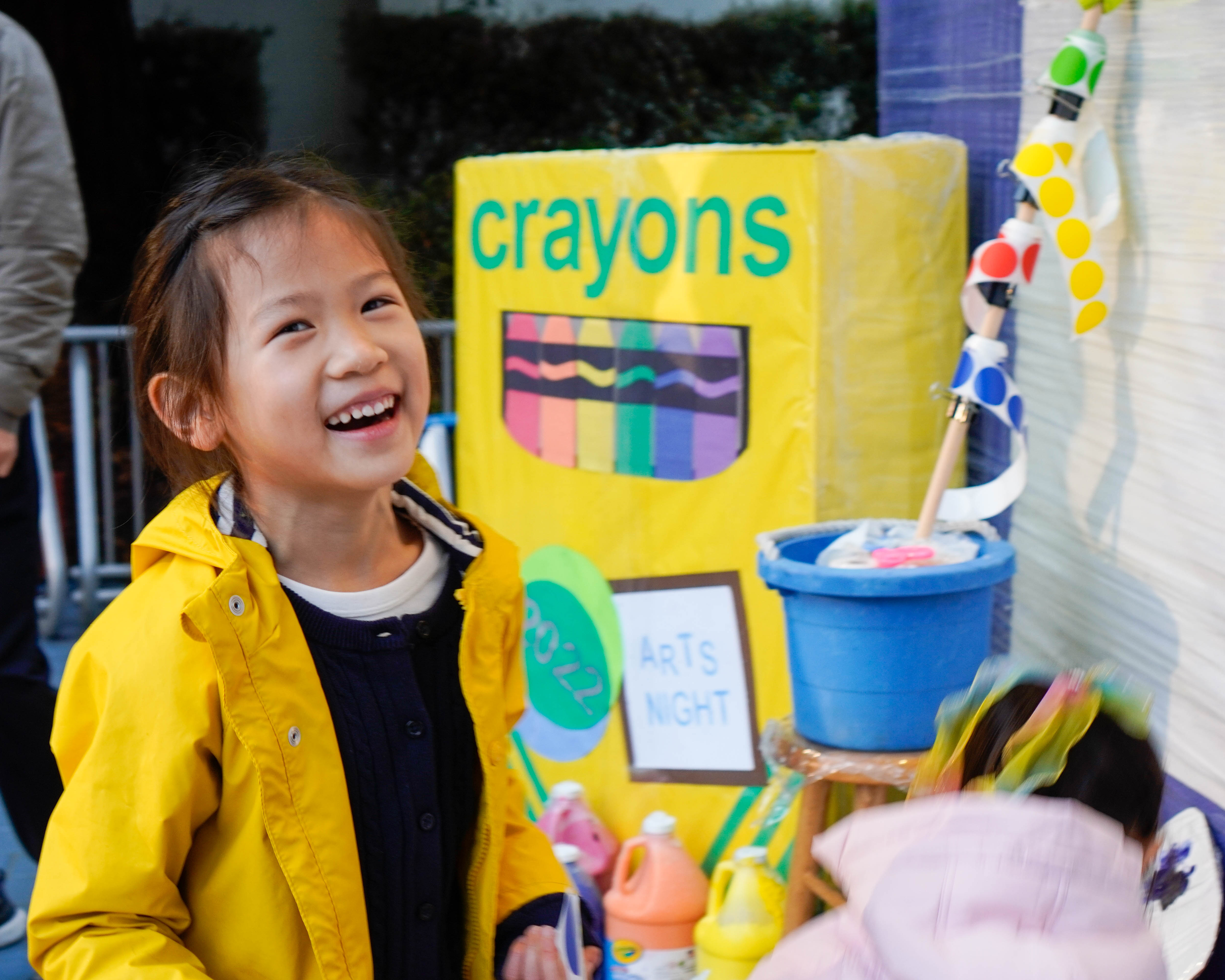 Once again the halls and classrooms of the Cohn Campus at Silicon Valley International School (INTL) were transformed into a stunning art gallery for all to enjoy. Pieces created by students of all ages, grades, and language programs from throughout the school hung on the walls as the community came together for the annual Arts Night. The theme Let's Play! was a perfect representation of the night as a whole - full of exuberance and joy.
Not only is Arts Night a chance for the INTL community to gather and enjoy being with one another, its primary purpose is to serve as an art gallery; a place where student artwork can be admired and explored. At INTL, art is treated as a third language - an integral part of a student's learning process. Art is a form of expression that allows students to communicate ideas, emotions, and experiences. It takes many forms, including painting, drawing, photography, sculpting, building, multimedia production, and much more.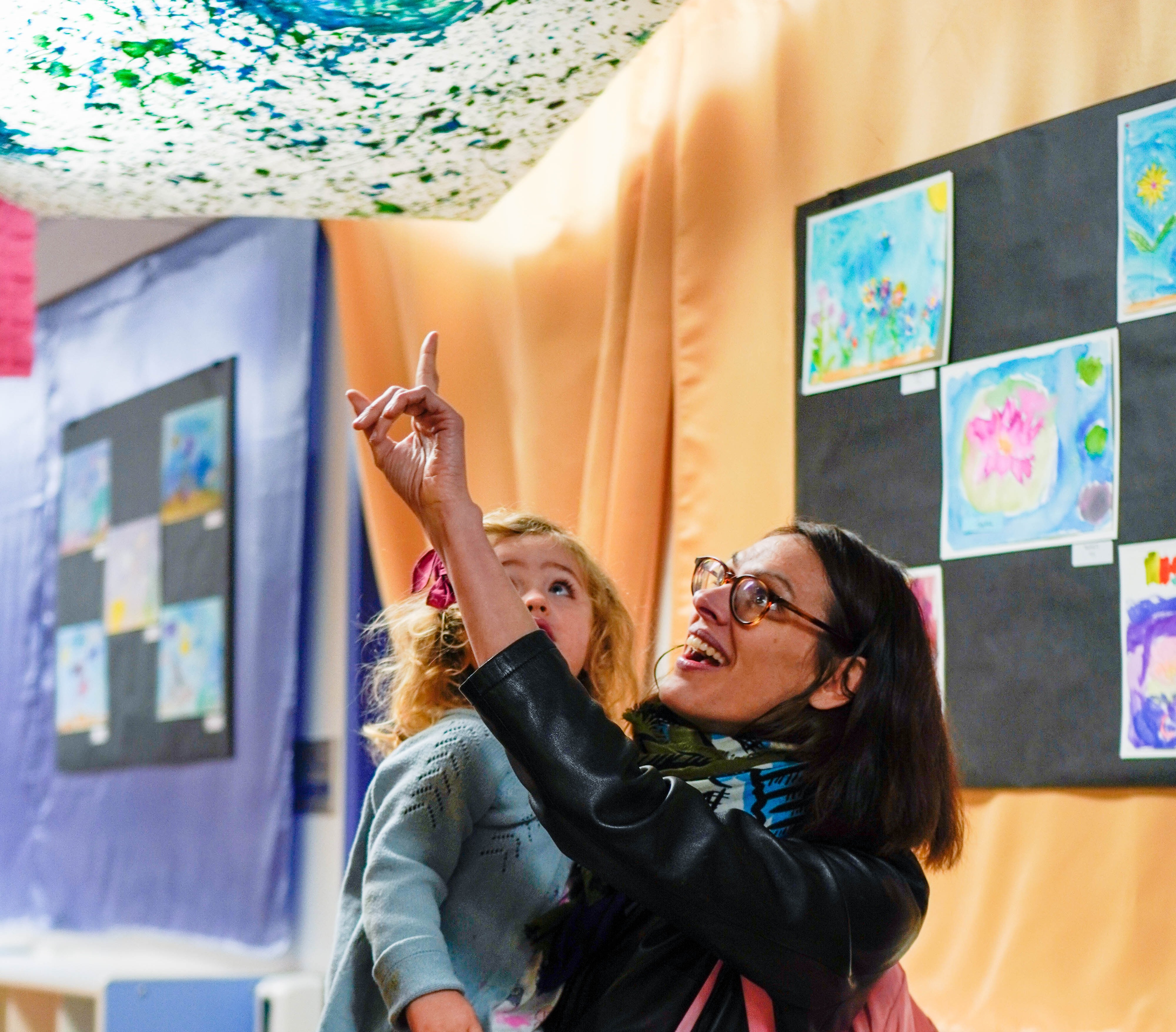 The weeks leading up to Arts Night were all about new lessons and learning opportunities - for example, the Early Years (Preschool-PreK) Program had created electric circuits with batteries, lights, and playdough to learn about light and color and how it all interacts with one another. Or, how the 7th grade English class learned about responsibility and their place in the world through the creation of Steampunk robots using all recycled materials, while the Upper School students learned about anatomy through creating life-size tape sculptures using their own body as models.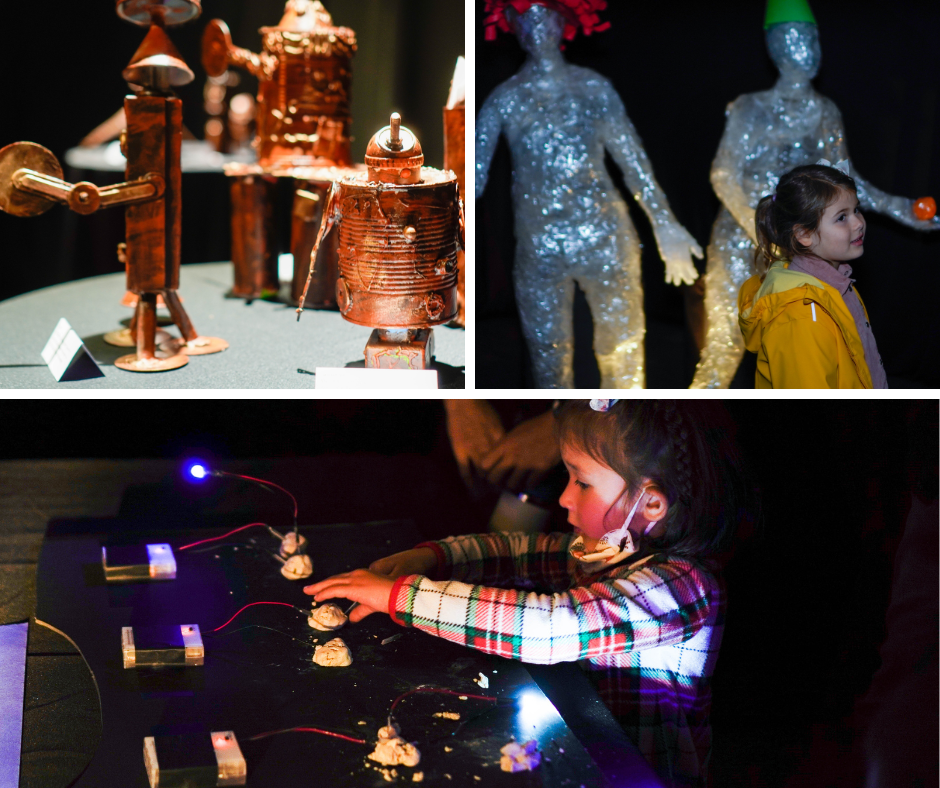 "Every year it is really great to see what the kids have come up with," said Early Years German teacher, Dunja Zaun. "It's really inspiring for me to see what the kids have for ideas. They can explore different materials and be very creative and open-minded."
Art has the ability to transcend linguistic barriers, making it a unique and universal language. It allows people from different cultures and backgrounds to connect and understand each other on a deeper level. It has a way of letting people catch a glimpse of how others see the world, such as with the 8th grade exhibit showing off their Fauvism landscapes based on their own photography. Free to create their own reality, students were able to express themselves in playful and abstract ways through oil pastels, watercolors, and acrylic paint works of art.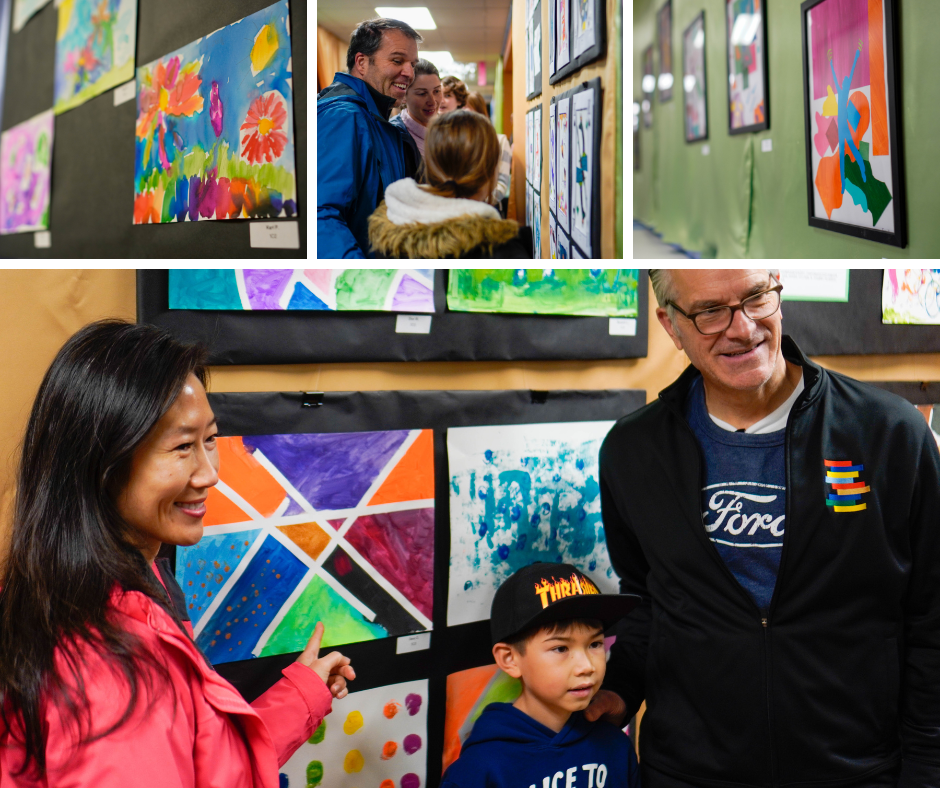 "I love Arts Night, it is my favorite event that we do all year," said Elementary Principal Liz Evans. "I love learning through the Arts. The Arts are just another language here at INTL that we learn every day and is a way for students to express themselves creatively."
Learning through language and growing as a student, but even more importantly as a young person, is at the core of what it means to be an INTL student. Art is an important tool for personal growth and self-expression. By creating art, students are able to explore their own thoughts and emotions, and to better understand themselves and the world around them. In this way, art can be a valuable way to connect with one another.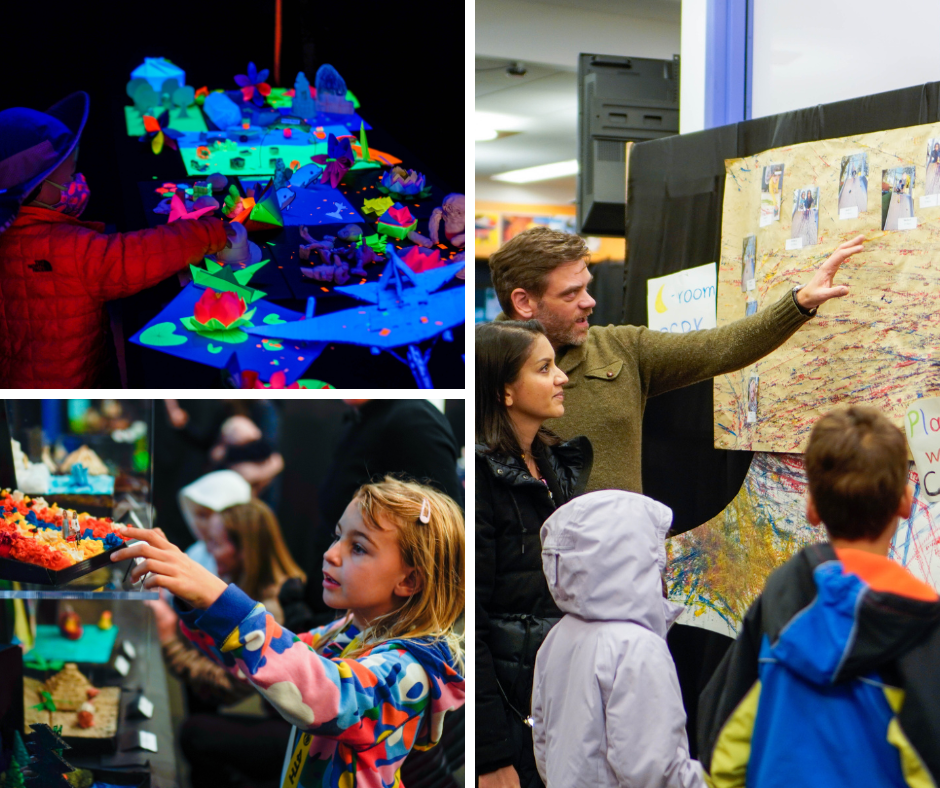 This connection led to some organic, unplanned works that came together through the cohesive efforts of classes taking ownership of their projects, a cornerstone to the inquiry-based education at INTL. In 4th Grade Chinese, the two classes came together to create an origami lotus pond, using precision and symmetry to make a masterpiece. Each student created their own piece of the pond, from lotus flowers, lily pads, frogs, and more, expressing themselves in their own way depending on their own interests and strengths.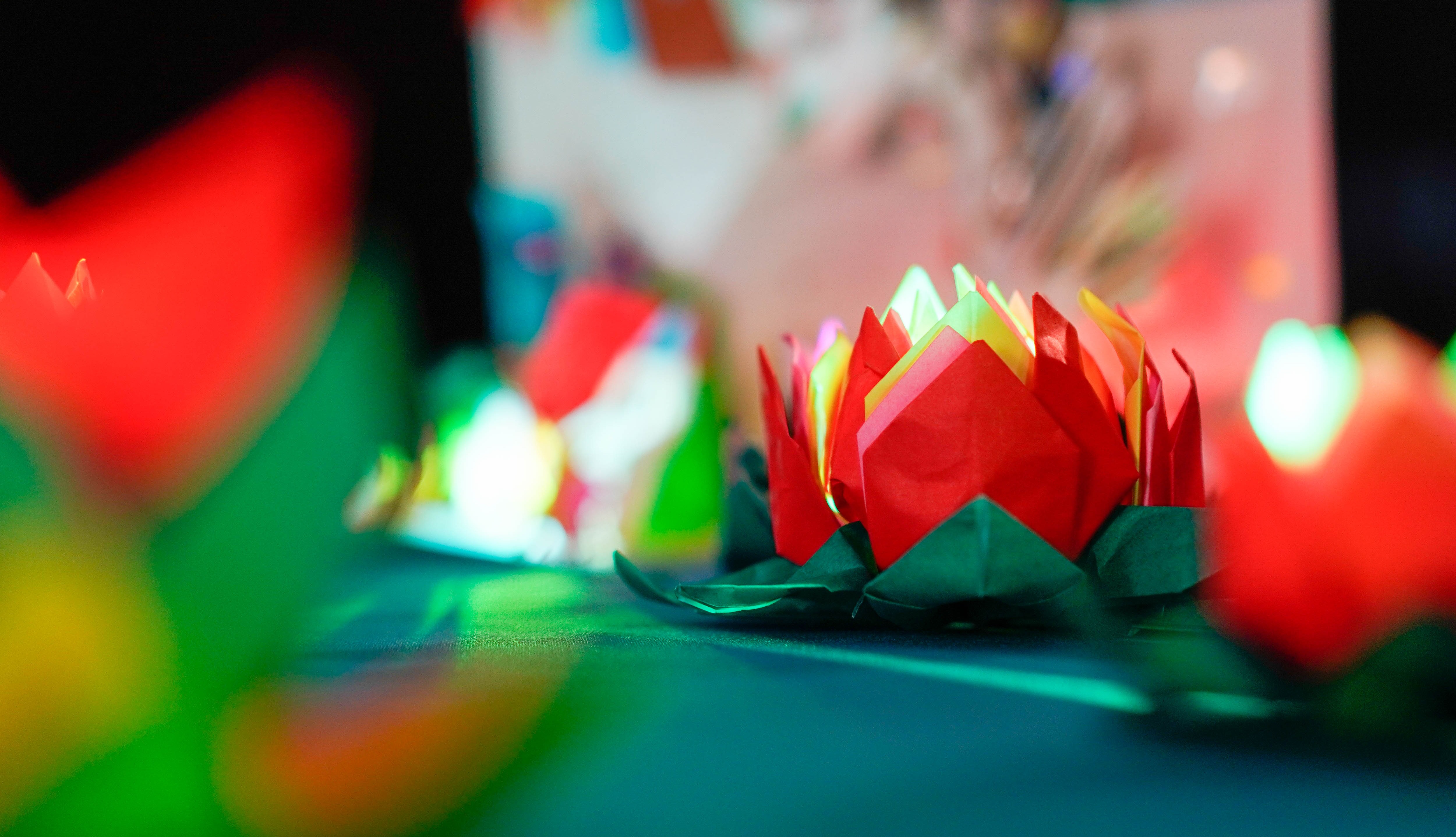 "We have loved every one of them," said 7th grade parent, Isabelle Hau. when asked about coming to Arts Night. "This is one of our favorite nights of the year. [The] creativity, the transformation, the kids are excited about showing us what they have done, seeing all the parents and teachers together, all of this is so fun!"
One of the largest community events of the year at INTL, Arts Night would not be possible without the dedication and support of the faculty, staff, and volunteers that make the night happen. Whether it was preparation, installation, serving, or clean up, their sacrifice and help was a work of art in itself. Thank you to all that made Arts Night a success.
To learn more about Arts Night and all the wonderful activities and events that are part of the INTL community, sign up for a tour or contact admissions today.