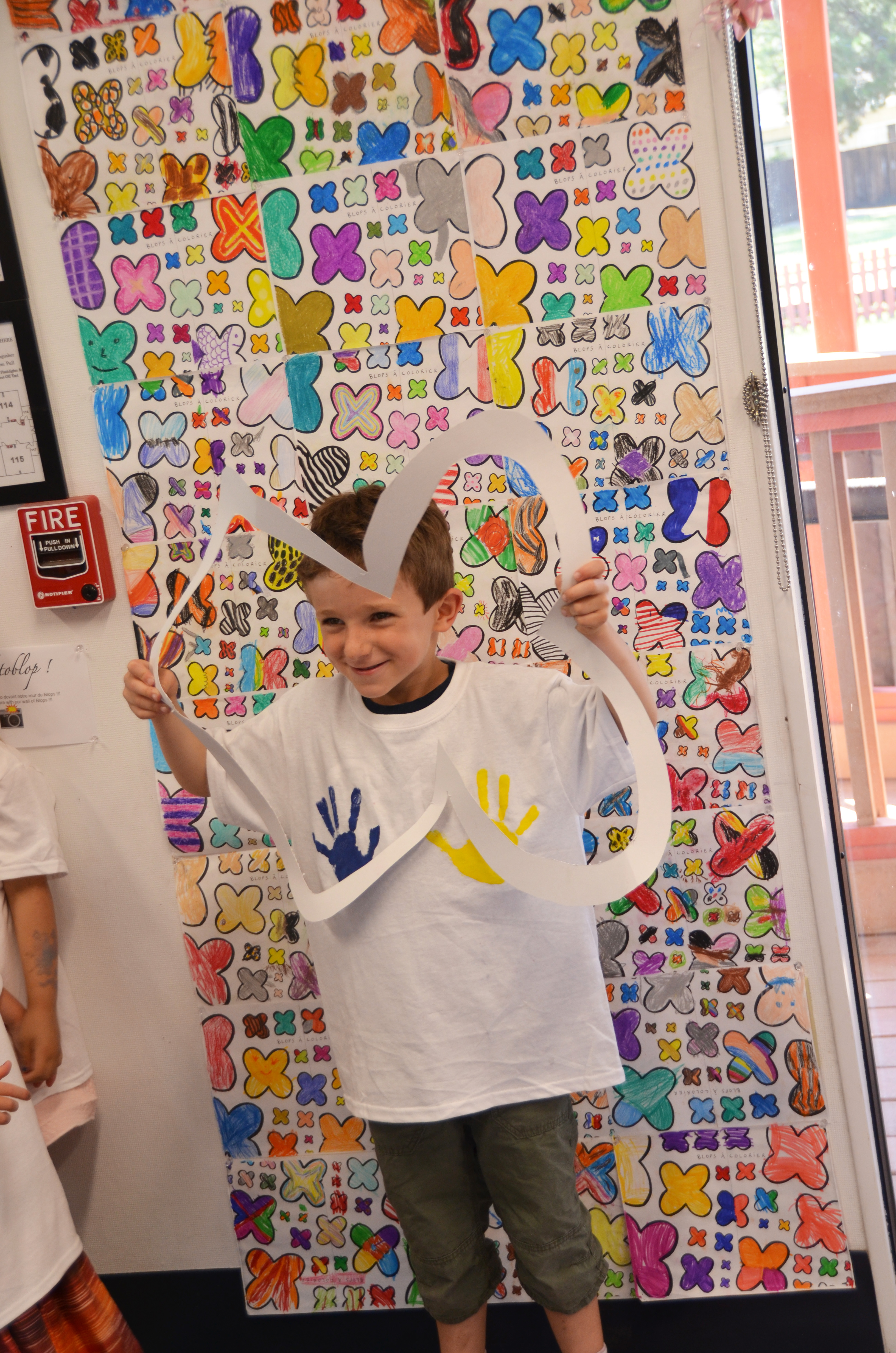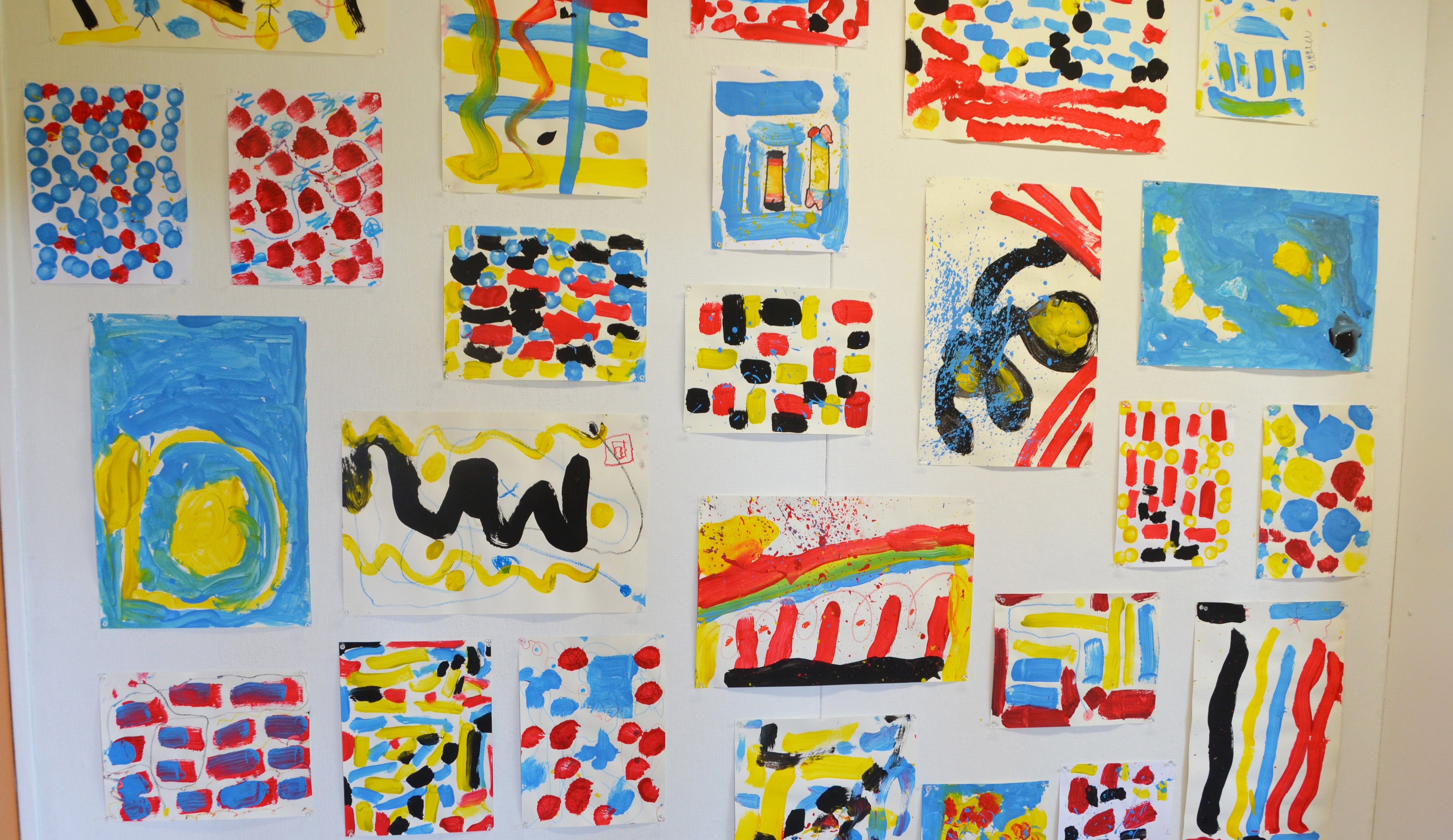 Last spring, Emeline Desposte's PreK class transformed their classroom into an art gallery, inspired by the colorful, exuberant, and interactive work of artist Hervé Tullet.
Hervé Tullet is a French artist and bestselling children's book author (of "Press Here" and "Mix it Up") whose simple, handmade style encourages people to see that they can be artists too!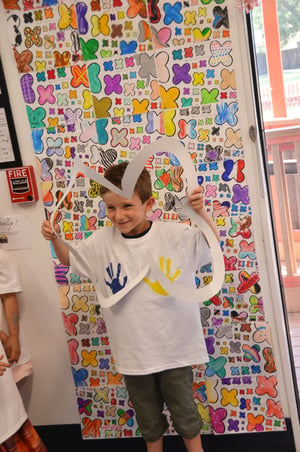 In 2018, Tullet launched "L'expo idéale avec Hervé Tullet" as the ultimate extension of his DIY ethos. The project takes the form of a series of web videos that lead artists (both young and old) through creative workshops. For Tullet, art is a game, and the act of creation, not the final product, is the most important part.
PreK teacher Emeline Desposte was inspired by Tullet's art and philosophy, and decided to lead her class to create their own "ideal exposition." As students began the creative workshops, Ms. Emeline noticed right away that "the students were letting themselves be carried away by Hervé Tullet's collective energy."
Students worked in groups to create projects including a colorful mural, a giant picture frame that hangs from the ceiling, a painted road, a wall of "blop" shapes (inspired by Tullet's book "Moi, c'est blop!") and much more! In one fun workshop, students created paintings, tore them into pieces, and reassembled them together into a new piece of art.
Hervé Tullet's videos helped teach the students about primary and secondary colors, and about what happens when different colors are mixed. The workshops are in French, helping students strengthen their language skills in a creative context. Ms. Emeline adds that "Above all the workshops led the students to understand the importance of following directions, but at the same time, the directions are open so the students are totally free in their painting."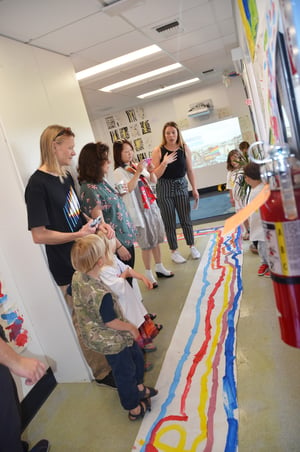 Emeline also produced a video montage of the students' creativity in action, which she shared with Hervé Tullet himself via email. The whole class was excited to see that Tullet responded, and even offered to Skpe with them! Over Skype, the class was able to ask Tullet questions and share their own experience of L'expo idéale. He praised their efforts and encouraged them to produce a final exhibition gallery experience.
After a lot of hard work by Ms. Emeline, the parents were invited to l'expo idéale, where the classroom was completely transformed into a colorful art gallery. Students were so proud to show off what they had created together, and it was an immersive artistic experience parents will not soon forget.
Learn more about l'expo idéale (or even to create your own exhibition) with Hervé Tullet's video series!
Take a look at the process in Ms. Emeline's video below!