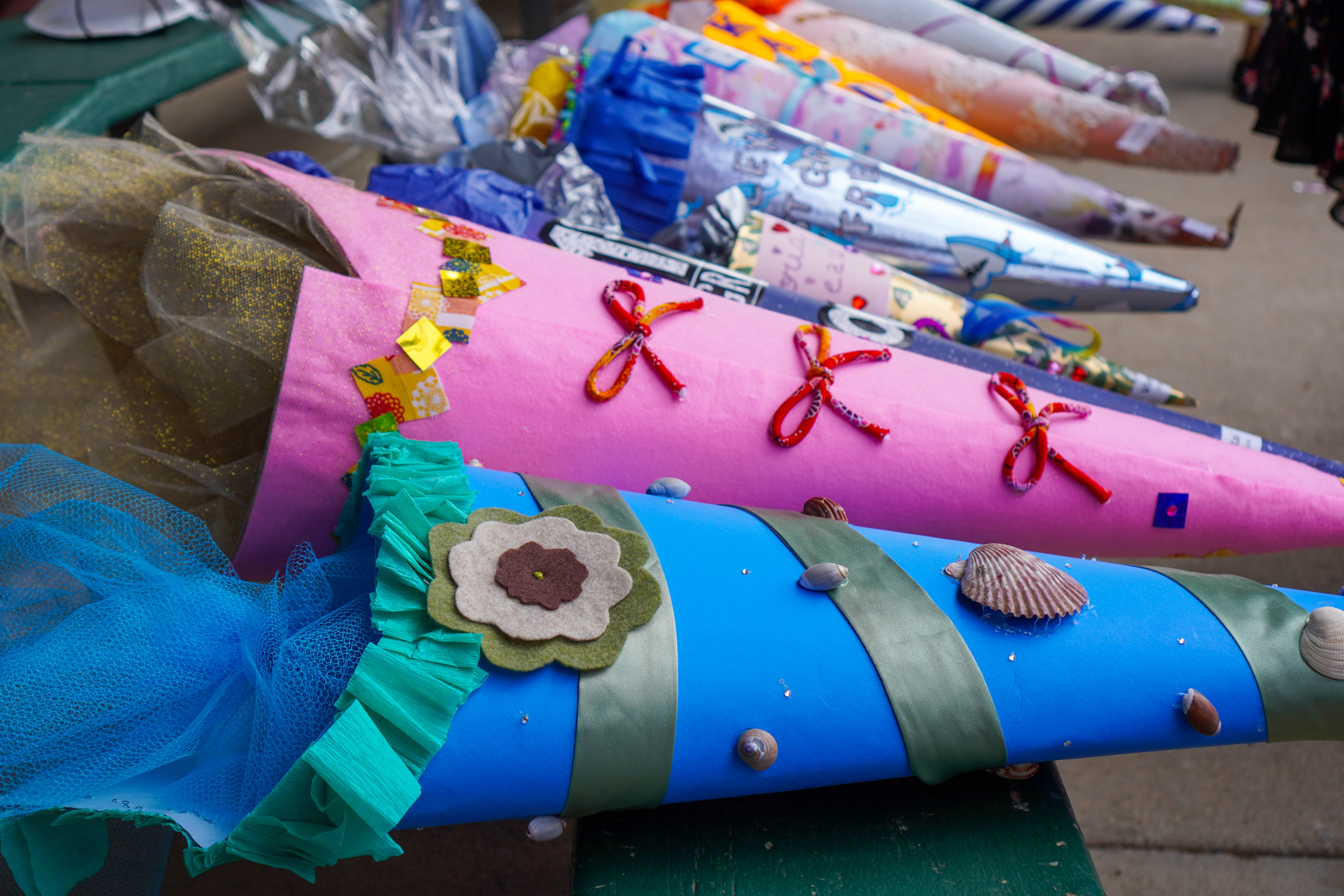 It was a day of celebration at Silicon Valley International School (INTL) as children returned to campus for the first day of school. Excitement abounded as parents dropped their students off at school, readying them for a fresh new year of bilingual inquiry-based education. While new traditions begin on the first day of school for all families, INTL continued its special celebration of the German tradition of Schultüte alongside its fresh-faced 1st graders from all programs (Chinese, French, German).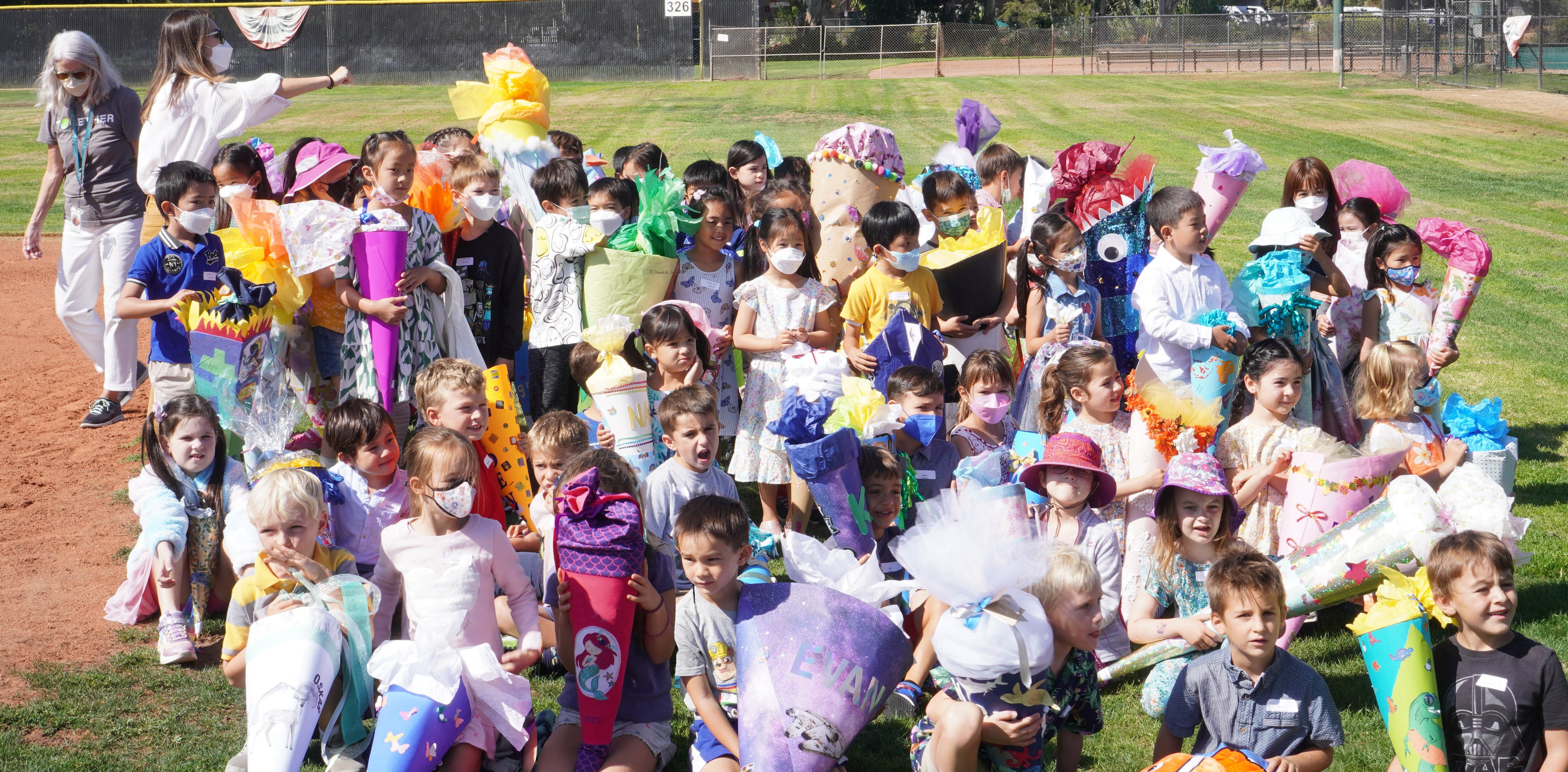 The Schultüte, or "school cone", is a decorated cardboard cone of gifts traditionally given to German children on their first day of 1st grade. The tradition began in the early 19th century in Saxony and spread throughout Germany over the years.
"The German tradition Schultüte is very old, actually, so even I can remember it when I was a kid," recalled INTL parent, Julian Eichhorn. "The large Schultüte with beautiful colors, and basically it is filled with goodies and little bit of candies and stuff the kids need for school, like pencils, sharpeners. The kids have a really fun memory of the first day of school, so they associate something beautiful with it. I remember my Schultüte. I know there was Swiss chocolate in it and beautiful pens, colored pencils, and rainbow colors."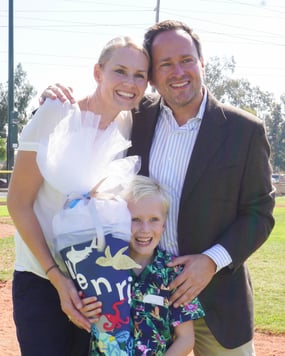 On the surface the tradition of the Schultüte looks like a simple celebration of a new school year as children begin their time as 1st graders. Despite the simple look of a gift given from parent to child, the Schultüte celebration holds a much deeper meaning. In German culture, the tradition symbolizes the start of a new phase of life as students transition from Kindergarteners into 1st graders. It is a rite of passage from one generation to the next showing them that while they are moving on to a new part of their lives, the family is still with them on their new journey.
While the tradition comes from the German Program at school, all three language programs joined in the celebration as part of the inclusion and unity that is at the heart of INTL. In addition to commemorating the first day of school for the students, the day was also a celebration of the first day of school for INTL's new Head of School, Barbara Greiner.
"You will be starting elementary school this year," Barbara said as she spoke to the new 1st graders. "In the German program and the French program elementary school starts in 1st grade. When we do celebrations in the U.S. we celebrate milestones and accomplishments like graduations. Here we are celebrating the beginning of a wonderful education. Where your teachers are going to empower you through bilingualism and through inquiry. I remember my first day in 1st grade. I had a wonderful teacher, her name was Josette. Josette was very, very, very kind. And, Josette not only taught me to read, but she taught me the love of reading. I know that you will discover the love of reading, and you will see how wonderful it is to read - and you'll be able to read not only in English, but in German, French, and Chinese. How exciting!"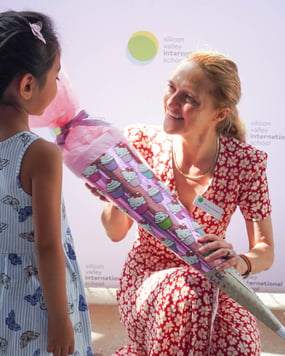 One of the honors of being the Head of School is getting to hand out all of the creatively decorated cones to the excited students. One after the other came forward to receive their cone full of treasures from Barbara before looking inside to reveal their bounty.
"It's a great way to make the kids excited about going to 1st grade," said INTL parent, Mark Warren. "It relieves the angst and I think everybody should do it. It's a great way to end the summer and start the school year.
"It is very important to us," INTL parent Nicole Moberg spoke fondly of the tradition. "I remember my first day in Germany when I got my Schultüte. It is fun to pass it on to our children and to the rest of the community at school. I am glad everyone participated."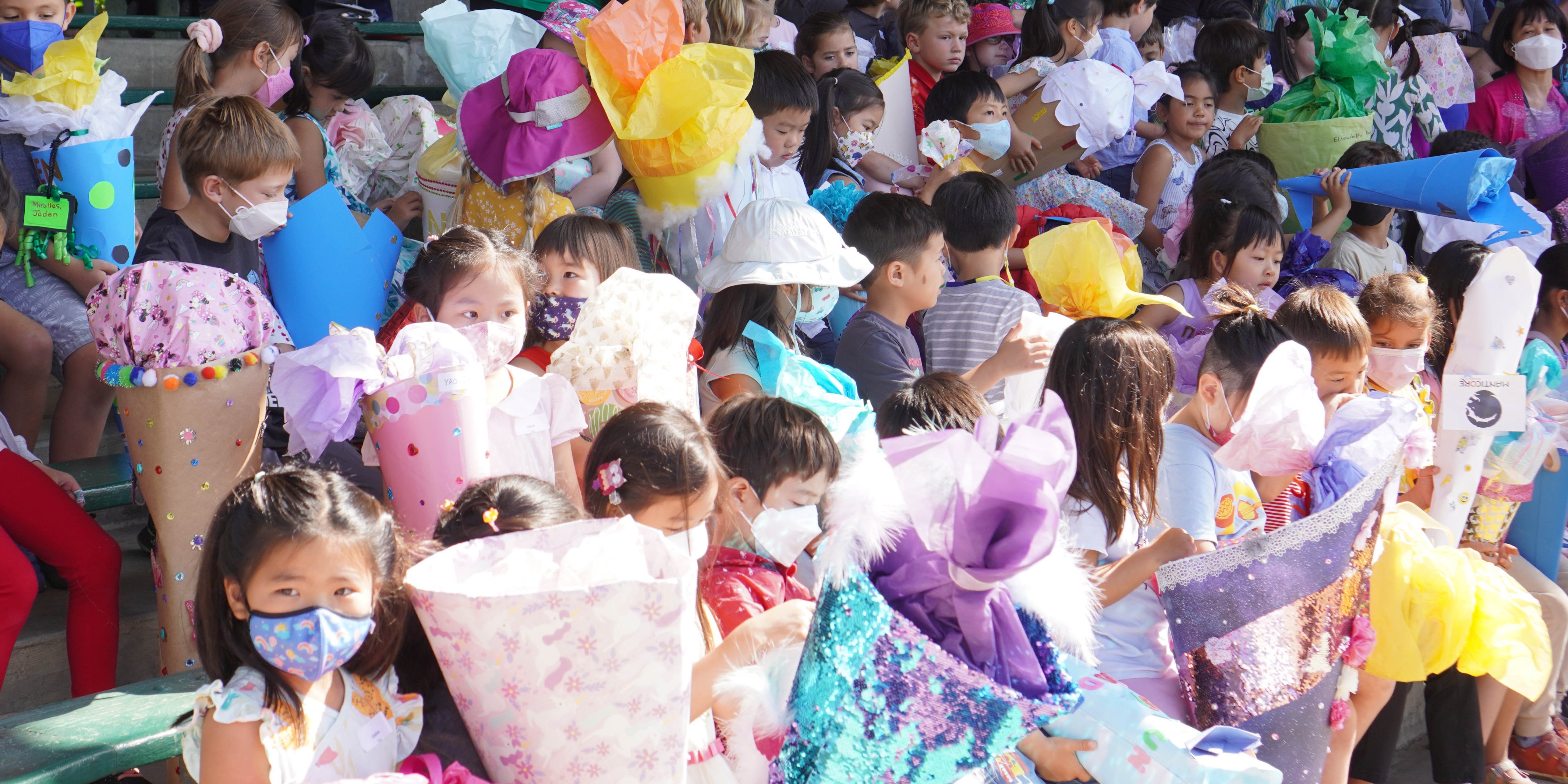 In the end, the toys and treats that came from every student's Schultüte made the first day of school just a little bit sweeter.
Sign up to learn more about INTL's Elementary School as well as the German program here.